Instagram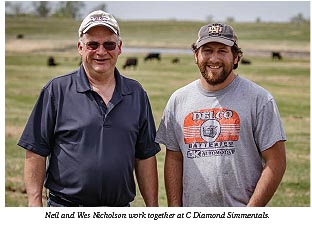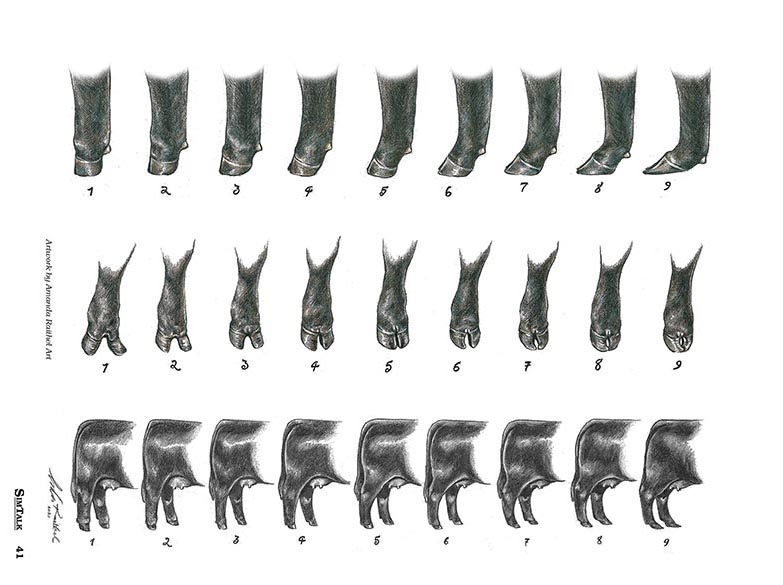 You care about soundness in your cow herd, right? Of course, you do; it is a trait many in the beef industry today care deeply about. Whether it is in the form of bull returns and guarantees, early culling of replacement heifers and developing bulls, or using an AI sire sight unseen, soundness plays a critical role in your reputation and the success of your enterprise.
Soundness by itself is a complex trait controlled by many skeletal and environmental factors. Fortunately, we know soundness traits such as the curvature of claws, the angle of the hoof, or even the angularity of the hock and skeleton can be improved through genetic selection and appropriate culling practices. The heritability of these traits range from 0.10 to 0.40, meaning approximately 10% to 40% of the variation for soundness traits in our cattle populations can be directly associated with genetics.
Read more here: https://bit.ly/3gMBLnk
---
A lot has changed at the American Simmental Association in the last five years. Five years ago, we moved into our new headquarters. We were gearing up for our 50th anniversary and preparing to write the history book. We were launching the International Genetic Solutions (IGS) Feeder Profit Calculator, and anticipating this new way to encompass management and genetics to estimate the relative value of a set of feeder calves. The genetic evaluation used the previous Cornell software and older models, including a two-step blending process for genomic information, and three times a year a fresh evaluation was released. Now we are settled in the headquarters, the IGS FPC has years of growth and success under its belt, and we are cranking out weekly genetic evaluations using improved methods: single-step genomics and the BOLT software system. Read more here.
---
Commercial Programs
The commercial programs offered by the American Simmental Association (ASA) are an effort to provide genetic tools to the largest sector of the beef industry; the commercial cattlemen. These efforts are supported through multiple ASA programs and the world's most comprehensive beef genetic database. The three pillars to ASA Commercial Programs are the: Total Herd Enrollment — Commercial option (THE-CM), Cowherd DNA Roundup (CHR), and the IGS Feeder Profit CalculatorTM (FPC). These three programs allow you to maximize the genetic awareness surrounding your program and to make better management and selection decisions. Each of these programs is designed to offer you assistance at three key management moments in your production system; Breeding, Heifer Selection, and Weaning.

Get Commercial Cowherd EPDs & Indexes through the Total Herd Enrollment cow inventory-based program.

ASA's Total Herd Enrollment - Commercial Option is designed specifically for serious commercial beef operations. Any breed type, free Active Herd management software, and only $500/year - regardless of herd size.

The THE-CM is the foundation for these programs and allows you to fully capitalize on the true genetic awareness of your cowherd. This is a herd reporting program that helps isolate the known genetic potential of every female you own. The industry's best metric for understanding genetic merit on individual animals is through an expected progeny difference (EPD). Simply put, an EPD informs you of the difference in production value for a given trait compared to the average animal. These are all calculated through pedigree relationships and performance records — and genomics if desired. Selection indexes take that one step further by combining multiple economically relevant EPDs along with industry costs and thresholds into a prediction model. Your seedstock provider undoubtedly uses EPDs and selection indexes to make mating decisions, why shouldn't you have the same technology?

This email address is being protected from spambots. You need JavaScript enabled to view it.

THE - Commercial

Cow Herd DNA Roundup (CHR) is a research project with GeneSeek

The CHR is your opportunity to push the accelerator on female genetic awareness. Every cattleman understands who their best-producing cow is, but do they know right away which replacement heifer will fill that role? The field of genomics allows us to gain a better understanding of a young heifer's genetic potential even before she starts producing. This technology utilizes known regions on the bovine genome that impact specific economically relevant traits. For example, longevity in cattle is known once they've been in production for almost a generation, but you would hope to know that information before you invested time and money in replacements. Through genomics, we can use known genetic markers to give us an indication of whether a female may last in the herd longer (or shorter) than others. The CHR will provide you with years of information before you have to invest years of time.

Cow Herd DNA Roundup

International Genetic Solutions Feeder Profit Calculator (FPC)

Capitalizing on novel technology usually requires a tremendous learning curve and a major outlay of dollars. Not this time! The IGS Feeder Profit Calculator is unique. It will offer a level of genetic awareness of crossbred feeder calves that have not been previously possible in the beef business. The IGS science team, the IGS partner associations, and the world's largest beef genetic evaluation database allow the IGS FPC to be delivered at no cost to producers. That is correct. No Cost!

While the other two programs are focused around your cowherd, the FPC is centered around where you make ends meet. You've invested a lot of time and money into not only your cowherd but also your bull battery because you know role genetics plays in the end product. You've also invested in your management protocols to ensure the feeder calves you raise will stay healthy and perform in the feedlot. These investments help you stay profitable and build a more valuable feeder calf, but are your buyers aware of your commitment? The FPC is a third-party view of the profit potential on your calf crop through the understanding of genetics, health and management. Your buyers want low risk, high potential calves with earning potential. You want to highlight that your calves fit their need. As opposed to traditional marketing slogans and empty statements lets provide true awareness. We can Know or Guess. Choose Know. Follow

FPC, What is It?

Would you like to get paid to use some of the most promising herd sire prospects in the industry? Consider becoming a Carcass Merit Program(CMP) Cooperator

As a Carcass Merit Program cooperator herd, ASA tests a number of young, unproven, high prospect sires through artificial insemination on the cattle within the cooperator's herd. The purpose of this is to obtain data on the progeny of the sires in order to improve accuracy on the sires EPD's and adjust the EPD's according to how the progeny perform. This allows bull owners and genetic companies to identify the high prospect sires and high-quality genetics early on in the sire's life. Also, by improving the accuracy of the EPD's, the sires become more predictable and marketable.

Carcass Merit Program