ASA SimSpecialist Spotlight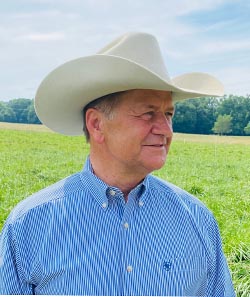 Gary Burns
Optimism is high among cattle producers in the southeast, as it is across the country, due to increasing prices through the spring and summer and into the fall for all classes of cattle. With bull sales getting into full swing in the coming weeks, hopes are high that elevated prices seen in the commercial market will carry over to the bull market and the seedstock market in general.
ASA along with IGS has been instrumental in the development and implementation of selection tools in the form of EPD, selection indexes, and genomic data for genetic selection by seedstock breeders. These tools have allowed Simmental breeders to provide genetic packages the marketplace is demanding. Commercial producers using Simmental genetics have positioned their ranches to take advantage and reap the rewards of the high point in the cattle cycle and survive the low point of the cattle cycle.
It is very exciting for me as a SimSpecialist to be a part of educating commercial producers on how many of the selection tools available to seedstock breeders are now available to commercial producers for animal selection and herd improvement. Sustainability for producers is maximized when seedstock and commercial producers take advantage of the technology available to select the animals that are most suited for the resources and the environment of the ranch but also meet the demands of the consumer.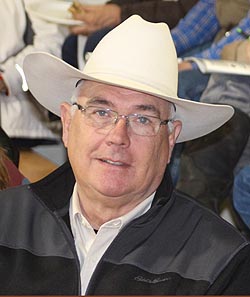 Russ Danielson
The positive economic outlook for ranchers and cattle producers in the upper Midwest has generated optimism for the upcoming months. Most areas received adequate moisture throughout the growing season to replenish depleted forage supplies because of a long, harsh 2022–23 winter feeding season. The prospect of higher feeder calf prices this fall also balances the ongoing increase in input costs. The bottom line is that ranchers typically reinvest any new profit in superior genetics and livestock equipment.
Area seedstock producers market few breeding cattle during the fall with the majority of sales occurring in February and March. The noticeable trend of commercial cow-calf producers selecting breeding stock that provide documented performance traits to fit specific needs in their herds continues to increase. The strong influence of SimGenetics has and will continue due to the pounds, efficiency, and carcass merit of the resulting calf crop.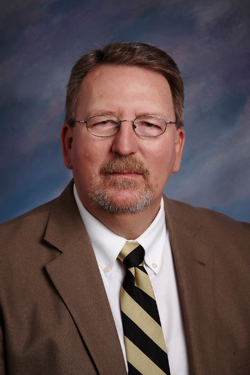 Brian DeFreese
Sale season has begun in the Eastern region with cattle selling very well so far. Bred heifers seemed to be in good demand. I am excited to see producers rewarded for the fruits of their labor this year. Five-hundred-pound calves are bringing $2.85–$3.20 per pound at the sale barn and fat cattle are bringing an all-time high at $1.90 per pound.
All cattle are selling well but the SimGenetic steers and heifers are bringing a premium. Feeders are well aware of the increase in average daily gain they see with the steers, and producers know the heifers make good cows.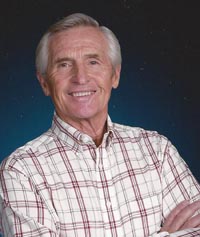 Dr. Michael Dikeman
I really enjoy serving as an ASA SimSpecialist. I get to attend some outstanding breeders' sales and the market for cattle is record-breaking. The only thing that could be a bit of a negative with bull sales this coming season is that there are significantly fewer cows in some regions because of severe drought that has caused extra culling of cows. That means that there will be a bit less need for bulls.
There is great strength in demand for Simmental genetics in our area (Kansas), largely due to the great progress in IGS genetic evaluation, the implementation of improved genetics by breeders, and the subsequent demand for Simmental genetics by commercial producers. Perhaps the greatest single reason for acceptance of Simmental and SimAngus is that breeders have made great progress in calving ease. That means that commercial buyers rarely even ask about birth weights and calving ease because there is much less concern among cow-calf producers.
The ASA and Simmental breeders have made rather dramatic progress in improving Simmental genetics. However, there is still much progress that can be made. The breed has long been known for great growth, but other breeds are catching up in growth rate. We need to continue to be very progressive in our genetic evaluation to continue making progress and hopefully take over second place among breeds in popularity and registrations.
Dr. Ashby Green
Finally, fall is in the air and we are out from under this summer's heat dome; however, an exciting bull sale season is currently heating up, highlighted by several upcoming sales in the North Carolina/Alabama region.
Well-acclimated Simmental and SimAngus bulls are making a positive contribution to the Southeastern US beef herds. Small and large herds alike benefit from "the only free lunch in the cattle business" with heterosis, along with improved carcass and reproductive traits from progressive seedstock producers.
The outstanding genomic data driven by ASA and IGS programs provide tools for seedstock and commercial producers to create the optimum cattle for sustainable and profitable production today and the foreseeable future. It is truly an exciting time for American beef producers utilizing SimGenetics!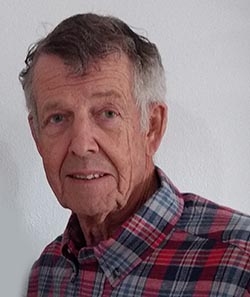 Dr. Bert Moore
Iowa continues to be a leader in registrations and number of breeders in the area of Simmental genetics. This is due to several things, but the underlying fact is that Simmental genetics provide what the beef cattle industry is searching for. This comes on several fronts. The most important one is that they serve the needs of the commercial industry. Even though herds in this area are frequently not large and beef cattle may be secondary enterprises to corn and soybeans in many operations, Simmental genetics still meet their beef industry needs. The ASA's innovation and leadership in genetic evaluation consistently provides the tools to do this. Commercial producers get what they are looking for.
The activities of an active and dynamic state association with strong support from the ASA also does much to stimulate broad interest in Simmental. They are strongly involved through sponsorship and support in junior activities, shows, and beef industry events. The strong commercial acceptance continues to stimulate the involvement in all these activities. Interest and demand on all fronts benefit each other.
As a SimSpecialist it is a privilege to have close contact with the beef industry from the association level through the grassroots level of sales and industry events to the farm or ranch. The comment, "I think I will try some Simmental" rarely seems to exist. More frequently it is now, "I'm going to use another SimGenetics bull." In all phases of the industry, Simmental is "where the action is.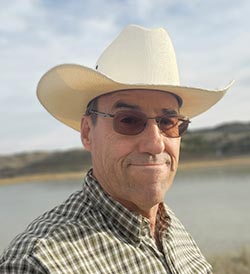 Dr. Andy Roberts
Commercial cattle producers are receiving high prices for all classes of cattle sales. At times like this, potential to be profitable is high regardless of cattle genetics, management practices, and marketing strategies. However, prices follow a cyclic pattern. A return to low cattle prices is inevitable. Remember the advice to sell high, buy low. Now is an opportune time to apply stricter culling and selection criteria in efforts to optimize future potential for profit. Returns on culls are high. However, investment costs for purchased or retained animals will be higher. Strategies that increase lifetime productivity help offset greater investment costs. Consider selling later-bred heifers and cows, which have greater probability of being open in the future, when prices may be lower. Crossbreeding results in substantial improvement in lifetime productivity. SimGenetics provides estimates of the genetic merit of crossbred animals, improving producers' abilities to match animals with production goals and environment.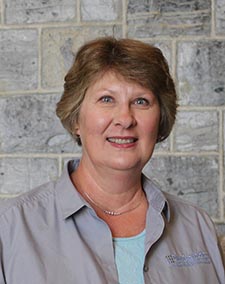 Susan Russell
Breeders in the region are currently evaluating weaned calves and developing their top tier for the upcoming spring sale season. Demand for Simmental genetics is expected to be high.
My husband and I ranch in southeast Colorado where our registered herd typically grazes the shortgrass prairie. However, spring and summer rains boosted forage in the semi-arid region and other parts of Colorado, creating more optimism among ranchers. While moisture was spotty, most producers, whose pastures were blessed with ample grass, are expected to have higher cow herd pregnancy rates, and retain additional females this fall.
Our region was honored to host Fall Focus in August. In addition to the networking, demonstrations, and live cattle displays at the National Western grounds, and the excellent educational panels, some attendees took the opportunity to look at cattle as they traveled to and from the successful 2023 event.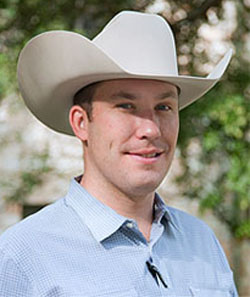 Ben Spitzer
The drought conditions in Texas are quite severe and a lot of cattle have left the area due to lack of forage. There is opportunity, however, and astute producers are making moves to capitalize on the expected market. 
I know of a large herd in north Texas that AI bred over 250 head of Red Angus cows to Simmental and plan to breed an additional 500 this spring, which is just one example of producers seeing the value of SimGenetics.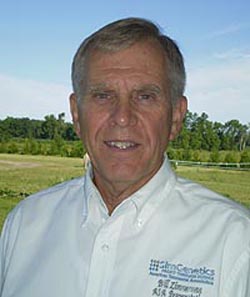 Bill Zimmerman
It looks like this is a year that we will talk about for years to come. The opportunity to make money in the cow-calf business, and therefore in the seedstock business, has never been like this before. At sales that I have attended so far, you can tell people are willing to spend money on good cattle. But, they are still sorting them out. Don't think that you can sell inferior genetics just because there's money out there.
We've clearly turned the corner on demand for Simmental-influenced genetics. There is excitement about the breed. For the phenotype-focused breeders, these female sales this fall look outstanding. And the commercial bull sales this fall show an increased interest in adding a shot of SimGenetics in commercial operations. I expect this will carry over into the bull sale season this winter and spring. Fleckvieh breeders are also experiencing tremendous demand for their unique, foundational genetics.
ASA has created lots of tools to help you as members capitalize on this good market environment. As you work with your buyers, consider how you might help them to use ASA programs to enhance their decision making and profit — and give you access to their data to improve the product you can offer them.
And, think about ways you can use us, the ASA SimSpecialists. We can help you. There are ways that we can get to your place, work with your customers, be there for your sale or for an open house, or make a presentation at a local cattle producers gathering. There will be opportunities this year to do things that you have only dreamed of in the past. It should be an exciting year for us all.