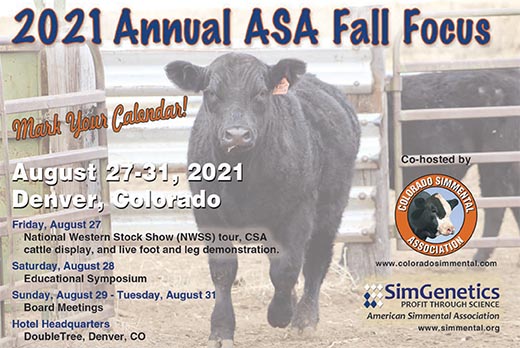 Pandemic – it is not a four-letter word, but the response is probably the same. You wonder what is coming after that word is said.  There are still challenges ahead but many will say that more Simmental events happened last year than we thought would be possible.
Fall Focus 2020 was one event that was postponed and we looked forward to this year's Fall Focus in Roanoke, Virginia.  The Virginia Simmental Association worked hard to plan for a  successful 2020 event and was working toward planning the same for 2021.  Unfortunately, some of the same considerations that we had to look at in 2020 are still lingering this year (2021).
As all know, there is a lot of organization and planning to make an inviting, successful event like Fall Focus. The Virginia Simmental Association met several times; then the team of Mark Campbell, Bill McDonald, and Chad Joines met with ASA Chairman, EVP, and staff to discuss the probability of having the 2021 event in Roanoke.  While the consensus is that all wanted to have the event in Roanoke, the decision had to be made on what we know now, today.  Many items go into the decision – financial, availability (as of April 1 – meeting room is only open to 50 people or less), and COVID-19 compliance to name a few. 
After much deliberation, the decision was made to move Fall Focus 2021 to Denver, Colorado, and host Fall Focus 2022 in Roanoke, Virginia.  All involved are excited to have a full-fledged 2022 Fall Focus in Roanoke, Virginia, on August 25-30, without limitations on size and touring.
A special thank-you to Mark Campbell, Bill McDonald, Chad Joines, and the Virginia Simmental Association.  This was a well-thought-out decision made in the best interest of ASA and ASA members to be able to hold a Fall Focus in 2021.
Fall Focus 2021 will be headquartered at the DoubleTree Hotel in Denver, August 27 - 30, where many of us call home during the National Western Stock Show and Annual ASA Meeting.  The educational symposium will be Saturday, August 28; open committee meetings on Sunday, August 29, with the board meeting to follow.  We'll have a chance to honor the Golden Book Award Recipients and say goodbye to the seven 2020 outgoing trustees during an evening social and meal.  We will have full access to the ballrooms to ensure plenty of space for attendees.  Thanks to the Colorado Simmental Association for welcoming the event to their state on such short notice. 
Planning is underway for the 2021 event details and will be posted at fallfocus.org and in the May/June issue of the Register.  Stay tuned for more information. 
Details

Created: 27 March 2021
Hits: 536