By Lilly Platts with Classic Coordinator Diane Duren |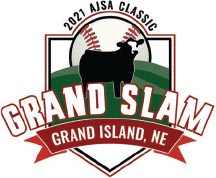 National Classic June 26 - July 2, 2021
The 2021 AJSA National Classic will mark the 41st year of bringing together young Simmental enthusiasts from across the country. The 2020 AJSA National Classic was set to be held at Fonner Park, but the unprecedented circumstances that came with the COVID-19 pandemic forced many changes, including a last-minute move of the event to Brookings, South Dakota.
The theme, "Grand Slam," is a nod to Grand Island, Nebraska, and the top-notch competition and education that will take place during the event.
The AJSA National Classic brings education to the forefront, with all participants being required to enter the educational contests. Additionally, the mentor-mentee program and other elements encouraging community and camaraderie have made the AJSA National Classic a one-of-a-kind event for young people in the beef industry. This year's competition will include educational contests and cattle shows, including showmanship.
The planning committee is headed by Diane Duren, who has coordinated two past AJSA National Classic events, in addition to two Regional Classics. Duren explains, "The AJSA offers youth the opportunity to compete in educational contests that prepare them for lifelong skills they need as they mature into adults."

Diane Duren, Event Coordinator
Diane Duren, Rising City, Nebraska, has been the executive director of the Nebraska Simmental Association for the past 26 years. She grew up on a farm, raising pigs and cattle, in addition to farming many acres. Duren works for Foundation One Bank in Omaha as the IT Director and Information Security Officer, as well as the Director of Marketing and Communications. Her husband, Jeff, has been employed by the Union Pacific Railroad for 42 years. Diane and Jeff are the proud parents of three daughters and have four grandchildren.
Duren takes on the unpaid but highly demanding job of coordinating the National Classic because she believes in supporting youth in the Simmental breed. She shares, "I have a passion for helping people, and love what I'm doing with the Nebraska Simmental Association, otherwise, I wouldn't have been around this long. I love seeing kids at the age of eight years join the Nebraska Junior Simmental Association and AJSA and mature through the program. It's very rewarding to see them become contributing young adults in society. Most of these youth become very successful in life as a result of being involved. I've mentored kids through the program who are now returning with their own children here at the 2021 AJSA Classic, and it's so great to see second-generation Simmental exhibitors."
Fundraising
A variety of fundraising efforts have taken place and will continue to up to the National Classic event.
Fundraising is at the crux of making the National Classic possible. Duren explains, "Fundraising is one of the most important components of this event as we wouldn't otherwise be able to afford the facilities or provide any meals for the families during the weeklong event. Plus, we wouldn't be able to provide hospitality or added security, etc. All of these things cost money and the entry fees alone don't support these extra costs. We have had great participation from breeders across the US already, but more support is still needed."
Sponsorship Levels
A variety of sponsorship opportunities are available. Visit juniorsimmental.org to stay up to date.
To become a sponsor, please contact:
Diane Duren
402-367-2272
This email address is being protected from spambots. You need JavaScript enabled to view it..
Fonner Park,
National Classic Headquarters
Duren shares, "Fonner Park in Grand Island has been in business since the early 1950s. Over the years it has grown into an impressive complex of facilities and is often the hub of activity when multiple events are held simultaneously or as a part of multi-facility events. The Nebraska State Fair relocated to Grand Island in 2010, bringing with it a breathtaking array of new structures and facilities. The facilities serve the Nebraska State Fair during August and September each year, and are available for all types of livestock shows, trade shows, sales, auctions, dog shows, craft shows, new product and equipment launches, large banquets, competitions, and dozens of other activities the remainder of the year."
Tie-outs will be located in the Cattle Barn, attached to the Five Points Bank Arena. There are stall rooms for up to 1,350 head of cattle. An outdoor tie-out area is located adjacent to the backside of this facility. The strategically planned, wide drive-through loading/unloading aisle provides for easy and quick load-in and load-out with cattle trailers. Duren explains, "The wash racks in this facility, coupled with the ease of moving livestock to and from the show arena without having to expose them to the outdoors, is every showman's vision. Grand Island's central location, easy accessibility, and Midwestern hospitality continue to draw new and repeat groups to the arena and the attached barns and exhibition facilities each year."
The Sheep Barn will also be available for the event and also allows for competitors to move cattle between buildings without having to go outside.
Hotel Information
Boarders Inn & Suites
308-384-5150 $99/night

Super 8
308-384-4380 $79/night
Best Western Plus Grand Island Inn & Suites
308-381-8855 $119/night
Block: Simmental 2021 Jr. National
Book by June 11

Ramada by Wyndham Midtown
308-384-1330 $117/night
Block: Simmental 2021 Jr. National
Book by May 12

Holiday Inn Express & Suites
308-675-1118 $149.95/night
Block: Simmental 2021 Jr. National
Book by May 28
You must call the hotel directly and refer to the block name.
Camping
308-382-4515.
Hours: 7:30 am–5:00 pm Monday–Friday.
Ask for Kathy

Fonner Park has been the headquarters for many cattle shows and youth events.
The Five Points Bank arena is attached to the cattle barn, allowing competitors to move between the facilities without going outside.
The cattle barn can house over 1,000 head of cattle.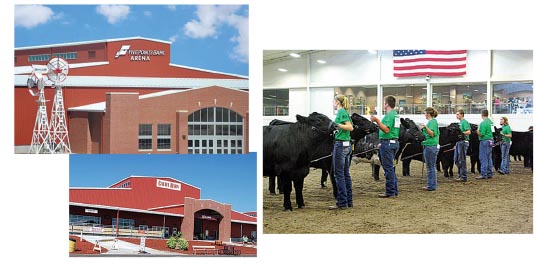 Details

Created: 16 April 2021
Hits: 528