Bichler Simmentals raises high-quality seedstock in North Dakota, with a focus on balanced traits and consistent improvement.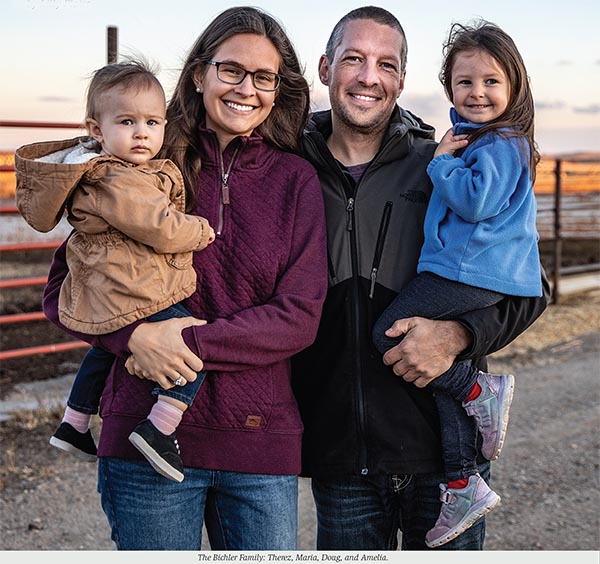 Doug and Maria Bichler's business is built on a strong foundation of history, hard work, the constant pursuit of knowledge, and a lot of perseverance. Doug is the third generation on the family farm, and a first-generation seedstock producer. Bichler Simmentals, located near Linton, North Dakota, raises SimGenetic bulls and females that are built to perform for their commercial and registered customers alike, with a focus on balanced traits and strong phenotype. Doug loves the Simmental breed and is proud of the productive, self-sufficient cow herd he has developed.
Generations of Simmental
The Bichler family homesteaded on the original farm 101 years ago and it has since been handed down through the generations. Simmental has been a part of the operation since the breed was brought to North America. Doug's father was one of the first in North Dakota to use a Simmental bull on his commercial cow herd. Doug explains, "My dad got a Simmental bull very early on when they were imported here. We've had them ever since. I know a lot of the commercial producers here were wanting something to use on their Hereford cows to add more performance — to just simply add more weight and muscle to their calves — and the producers that tried them early on were very happy with what they did on the Hereford cows and with the performance. Simmental genetics just took off from there."
Doug's father worked alongside his father before taking over the business, and Doug followed the same path. At 16, he obtained his first two Simmental females and began building his herd. He knew at an early age that he wanted to move into the seedstock business. He remembers, "I've always had an interest in breeding seedstock cattle, particularly Simmental, and pursued that interest more seriously in college."
In 2000, Doug purchased a larger group of females and started selling registered bulls the next year. His interest in developing quality seedstock has continued to grow over the years, and sticking with Simmental has been an obvious choice. "Something you'll see run through our program is balance and consistency," he says. "The Simmental cattle are so well balanced. They're a performance breed, but you can't beat the maternal that you get. We have found that the foot quality, udder quality, docility, and performance you get out of Simmental is just not matched by any of the other breeds we've worked with."
A Steady Approach
Doug explains that his breeding philosophy boils down to one word: balance. He says, "I don't chase a single trait. I try not to chase fads. I try to make the most educated decision when I bring in a new bull or female, or utilize a bull or female in AI or ET. Whenever I buy a herd bull I try to look at it with a balanced approach."
Constantly improving his cow herd year to year is a priority for Doug and he makes careful decisions to ensure that nothing forces him to take a step backward. "I want to make sure whatever I use or bring in is going to propel me forward, and of course I look at cow families. There's a lot of homework that goes into it. I approach it with a balanced state of mind because I want to market to everyone. I want my cattle to have good numbers, but I also want a phenotype that my commercial customers desire, with a lot of depth of body, rib shape, muscle, and performance."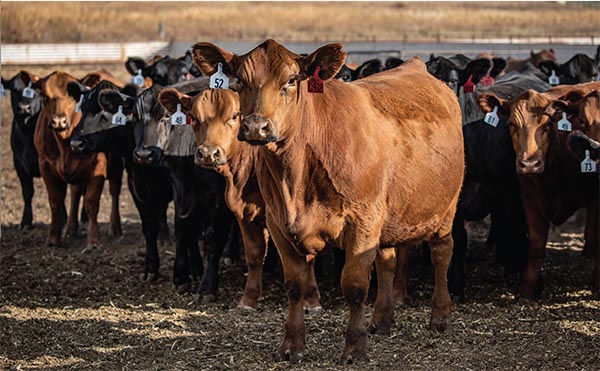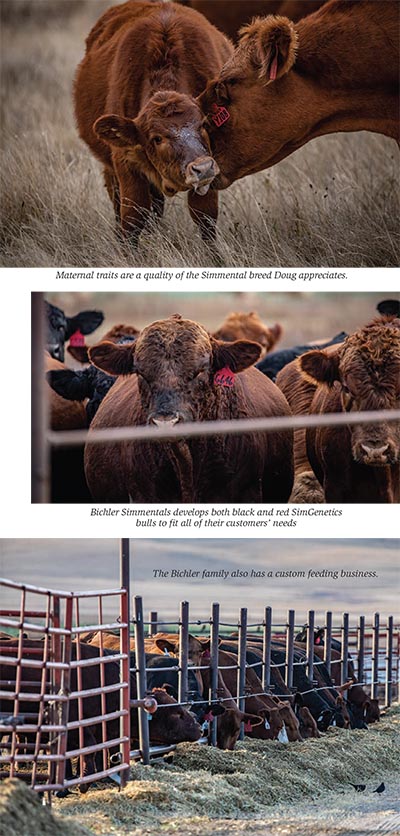 Using a variety of tools also allows the Bichler family to focus on balance. Genomics, carcass ultrasound, Total Herd Enrollment, and research projects are some of the ways Doug gathers information to make his own selection decisions, and also to give his customers the information they need to purchase the best bulls and females for their operations. Knowing how to use these tools, and also help his customers sift through this data, is a priority for Doug. He says, "When there are educational opportunities, I try to attend when I can. Obviously on a ranch setting it's a little harder to get away, but I do appreciate the fact that there are other opportunities for me online. I like to watch tutorials, I like to learn about other producers and what they are doing, and I might come away with a new idea or a new way to approach something."
Genetic selection is something Doug has always enjoyed, and in recent years, he has moved toward using higher-quality herd bulls, more embryo transfer work, and less AI. Any females that don't perform well, or don't produce the kind of bulls and females Doug wants to sell, are moved to the recipient herd. Doug looks for new herd bulls throughout the year and is focused on finding sires that help advance the genetics of his herd. He explains, "They need to be phenotypically impressive to me. Things that are now more important are foot quality, disposition, and structural correctness. Those are big things I think our breed needs to focus on. I still want them to have some muscle and eye appeal, and work for me from an EPD standpoint."
Bichler Simmental bulls are sold across the country, and one of Doug's goals is to expand his customer base. North Dakota's climate creates hardy cattle that can perform in a variety of environments. Doug says, "My customers who have added Simmental females to their herd, have used my bulls, and have had calves out of them have been really happy with how those cattle perform. It tells me I'm doing the right thing and doing something good. The Simmental cattle have been working very well for the cow herds we have around here. The SimAngus™ females are phenomenal. I hear that from my customers all the time, and I think the quality of the cattle that you get from incorporating Simmental genetics is second to none.
Overcoming Obstacles
The cattle business is fraught with unknowns — from mother nature to markets, each year comes with a new set of challenges. The Bichler family was faced with an especially difficult situation several years ago when Doug was in a farm accident. While cleaning out the baler to begin in the field, he grabbed at one last piece of net wrap and before he realized what was happening,his arm was sucked into the moving belts. He was stuck there for some time, became unconscious, and was eventually jolted awake because the collar of his shirt was also being sucked in. A rush of adrenalin allowed him to pull his arm out. Maria, who was pregnant with their first child, had fallen asleep in the house waiting for Doug to come in for dinner. Doug was able to wrap his arm up, get inside, and call 911. This led to his right arm being amputated above the elbow and a three-week stay in the hospital.
Farming and ranching is ranked in the top ten most dangerous jobs by the US Bureau of Labor Statistics Census of Fatal Occupational Injuries, and raising awareness about safety is a priority for the industry. While the incident caused a number of
immediate challenges, like healing and raising a new child at the same time, Doug has been able to continue working on the ranch and has found a positive outlook on the situation. "I still feel fortunate. I can still hold my kids, and I can still be around for them. It could have been so much worse and I'm thankful to still be here," he says. "People think twice about things that they do and to me that's kind of what makes it worth telling my story, because if I can help someone avoid what happened to me, it makes it a little more worth it to me in the end."
The cow herd has also helped the Bichlers to adjust and succeed in the face of this challenge. North Dakota winters are harsh, and calving season can be a constant fight with mother nature. To remove this stress and reduce labor, Doug moved to calving in May, and will be selling his second group of 18-month-old bulls this coming November. Previously, the Bichler's sale was held in February. Doug explains, "I needed a way for this cow herd to help me out a little bit, and to work with mother nature, instead of always seeming to work against it. So, I came up with the idea of calving later so I could have the cows out in more of a natural setting. The cows all calve out on grass now. It went tremendously well, it accomplished my goal, the calves were very healthy, and the cows were in great shape. I had very little dystocia. It just changed things in a way that gave me new optimism that I can still pursue my goals and my dreams in this industry even though things look a little different. The cow herd worked for me and did really well. Because of that I also changed my approach to selling cattle."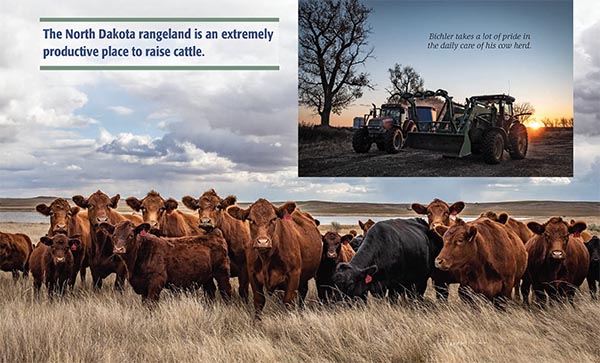 A Family and Community Business
Raising a family in agriculture is a priority for Doug and Maria. Their two daughters, Amelia, 3, and Therez, 1, are already taking great interest in the cow herd and Doug finds a lot of joy in sharing daily farm life with them. Maria works from home as a journalist and also spends a lot of time helping Doug on the farm.
North Dakota is also important to the Bichler family. Doug and Maria both have deep roots in the state and find a lot of value in being a part of their rural community. Maria says, "We love where we live. North Dakota in general is filled with good people and good cattle."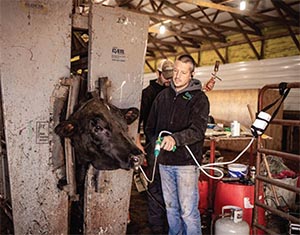 Doug represented the Simmental breed at the Young Cattlemen's Conference, and says this experience, in addition to other industry events, have been important to him. "I met a lot of great people, and I'm still in contact with several of them. To this day we check in with them frequently."
He is generally very involved in his community and the industry, and his driven nature has allowed him to make progress in the seedstock industry. "I've always been very determined and very goal oriented," Doug says. "Honestly, I've heard all of my life that 'you can't do that,' or 'that's not going to work,' and it seems like that drives me to not only do a good job, but to do better than I'm expected to do. That's been the theme of my whole life, really. You need to figure out what your goals are, and put your head down and work toward those goals. Some days will be tough, but if you stay the course and realize what your goals are and put the work in, then I think you can be successful."
In the future, Doug says he will continue to work toward raising the best cattle he can. "I want to be able to sustain my family here, and sustain a good way of living as I have in the past. I want to increase the quality of the cattle we have. I think there is always room for improvement no matter how good your cow herd is. There is always something to fix, and I'm just going to keep working toward that perfect cow I have in my mind."
He concludes, "I feel incredibly blessed to be able to take care of this cow herd every day. My way of life is something I wouldn't trade for anything. I enjoy feeding every day, and seeing how far I've come. Now, being able to have my wife and kids out here with me, there is no occupation that is more rewarding than being able to pass this onto the next generation."

Details

Created: 07 May 2021
Hits: 854