Hospital Builds on Former ASA Property |
by Dan Reider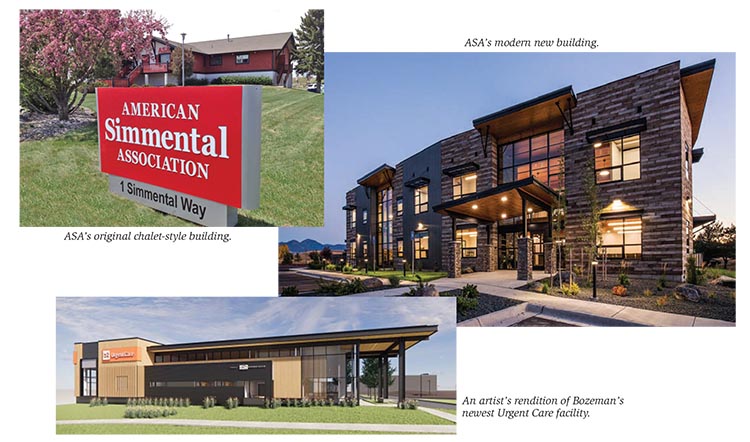 In 1974, the five-year-old American Simmental Association capitalized on rapidly expanding demand for its services to build an 11,250-square foot building costing $281,000. For 42 years, the Swiss chalet-style facility, nestled adjacent to heavily traveled Interstate 90, housed as many as 55 employees, along with a self-contained print shop, a completely equipped mail room, a constantly growing computer system, a waterproof walk-in safe, and a board room that converted to a small theater for slideshows and informational movies.
"In the mid-2010s, Bozeman was in the midst of a growth explosion and the demand for well-located property presented a win-win opportunity for the Association," ASA Executive Vice President Wade Shafer explained. "We received an offer from a speculator on our existing property that was well above any expectations we might have had, setting in motion a plan that greatly benefited the Association."
The original 40-year-old building was in need of a sizable injection of cash for maintenance and remodeling to bring it up to code. "This was a business opportunity that we just couldn't afford to pass up," Shafer emphasized.
The Association then purchased 4.3 acres of land about one mile north of the original property and promptly constructed a modern, state-of-the-art office building. The new facility consists of 16,124 square feet on three levels.
Total cost, including land, building, and planning, added up to $3.3 million, allowing ASA to place a welcome infusion of excess money in savings. In February this year, the old building and a freestanding storage building were razed to make way for new construction.
A new building, called b2 UrgentCare on North 19th, is going up under the auspices of Bozeman Health, the local hospital that serves more than 150,000 people from a 100-mile radius. In an announcement, medical officials described the addition: "The building will open on Bozeman Health-owned land between North 19th and Simmental Way next to a rest area. The location provides convenient access to Urgent Care services for those traveling on I-90 and to the growing northwest side of Bozeman." Construction will begin this summer and is expected to be fully complete by fall of 2022.
"We are very pleased with the way these transactions played out," Shafer concluded. "We have a new state-of-the-art building with stunning views of the Bridger Mountains and additional land for future expansion or sale while adding a substantial sum to our investment portfolio. The icing on the cake is that our original property will be utilized to provide much-needed health care to the rapidly growing population of Bozeman."
Details

Created: 16 May 2021
Hits: 1053