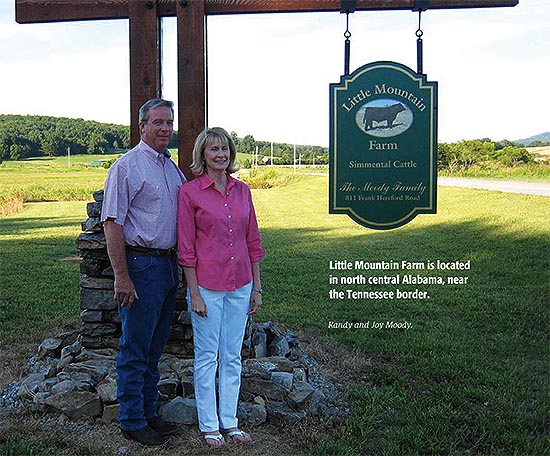 by Lilly Platts |
ASA Board Chairman Randy Moody remarks on programs and key issues facing the ASA Board of Trustees.
Platts: Tell us about your background, family, and cattle.
Moody: Joy and I own Little Mountain Farm, a seedstock operation running 60 mature Simmental, SimAngus™, and Angus cows. We exclusively use artificial insemination and embryo transfer.
I grew up on a diversified farm that consisted of cotton, a commercial cow-calf herd, and a large hay operation. We purchased our first Simmental cattle in 1984.
I have a BS from the University of Montevallo. Upon graduation from college, I went to work for a large farm equipment manufacturing company. While there, I worked up the corporate ladder to general manager, overseeing the operation with 700 employees. In 1993 we started Randy Moody Associates, a sales consulting and marketing company specializing in industrial and agricultural spray pumps, fluid controls, and hydraulics.
Through the years, I have served on several different beef industry boards, including the Alabama Simmental Association as president, Alabama Beef Cattle Improvement Association as president in 2009 and 2018, and the Alabama Cattlemen's Association (10,000 members) as regional vice president.
Joy and I are the proud parents of our son Dr. Michael Moody, DVM. He and his wife Brooke have four children: Micah, 18; Patton,11; Parker Joy, 8; and Whitman, 5.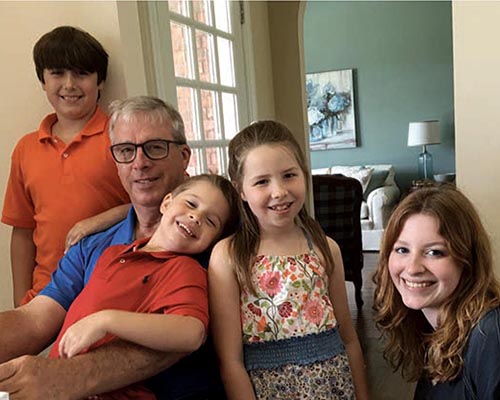 Platts: What are you considering as you step into the role of Board Chairman?
Moody: As I step into the role as chairman in the midst of the global COVID-19 pandemic, one may think our challenge is to simply stay in business until we conquer this horrible virus; however, I see a bright future for the American Simmental Association. The task at hand is not to survive but to THRIVE. We are experiencing tremendous growth and acceptance in all segments of the cattle markets.
We have many great projects well underway. I would like to see us continue these, as well as show results from these projects. I am very aware that research takes time, but on the other hand, we must be able to relay results to our membership in a timely fashion.
If I had to choose one thing I would like to hang my hat on as an accomplishment this year, it would be the long-range planning of our Association. I am thinking not of the committee work, but more about the sustainability of our Association as a whole. I see it is imperative to do long-range planning to ensure that the next generation of ranchers, ASA, and International Genetic Solutions, will be at the forefront, leading the cattle industry by continually making economic advances.
Diversity is of utmost importance, especially when speaking about the composition of the Board of Trustees. With many different interests under the large tent, we call ASA, diversity among trustees is essential to remain focused on the betterment of all members and their customers.
One of the most important and difficult assignments that the incoming chairman is tasked with is selecting committee chairmen and making committee appointments. It is critical to make good decisions when selecting the makeup of each committee. I feel if that job is fulfilled correctly the participation of trustees will be there. Having a balance of newly elected trustees and experienced trustees enables all to glean from one another.

Platts: How do you view International Genetics Solutions (IGS), and its role in the industry?
Moody: IGS has literally blossomed before our eyes in the years that I have been on the board. IGS is the philosophy of collaboration among many entities within the beef cattle industry. We cannot argue that each of the IGS partners has had significant impacts on the beef industry, but we can certainly see the power when these separate groups collaborate with one another. It is through this effort, with the leadership coming from ASA, that we have had the largest genetic evaluation of beef cattle in the world for the last five years.
This Multi-breed Genetic Evaluation is something all breeders can be extremely proud of. It is because of the evaluation we can study our animals and make confident, sound breeding decisions centered around individual goals.
I like to think outside of the box at times, and concerning the question of where ASA can grow, I think IGS is one area that should generate much thought. To be brief, I see the IGS platform creating a revenue stream by providing services to other partners beyond the scope of genetic evaluations.
At the same time, ASA/IGS should be offering our knowledge and services to the private business sector that has commercial producers as clients. This may become a valuable revenue stream as well. We all realize the producers are only willing to invest in what is economically feasible, the keyword being feasible. ASA/IGS has the ability to provide so much data about your cow herd that it's easy to justify some added cost of production.
Platts: Total Herd Enrollment (THE), has been a part of ASA's programs for many years now. How do you see this program in the future?
Moody: Total Herd Enrollment has had a huge positive impact on ASA in a couple of ways. Putting on my business management hat for a moment here, THE came along when "cash flow" at ASA meant waiting until the end of the month hoping we could pay our bills. It was the idea of THE and the scheduled payments of participating in this program that allowed ASA to actually forecast expected income. This is huge in the business world. The accounts receivable department can breathe today being able to predict this part of our business.
THE is also a vehicle used to bring in more than 80% of the data points within our Herdbook. Also, the quality of this THE data has significant value because it is complete reporting of an individual's herd. Updating the criteria for Performance Advocate will generate additional data collection, which in turn builds a stronger, more comprehensive database.
Platts: What role does the Carcass Merit Program (CMP) play?
Moody: The CMP allows breeders to prove young sires. I see this program today being important because the actual carcass of known sires' progeny validates our prediction of carcass quality traits.
The carcass expansion program will further validate our predictions in a much faster timeframe simply because of the greater numbers of carcass reports. All breeders large and small will benefit from these programs.
Platts: ASA's Progress Through Performance (PTP) program is an industry-leading way to combine the show ring and performance. How have you seen this evolve?
Moody: ASA's PTP program contributes to breed improvement. This is accomplished by placing the numbers in the judge's hands. I realize judges, like all of us, have opinions about which numbers may be more valuable than others. However, the real prize here is the exhibitors know the judges have the numbers and they make breeding decisions based on this fact, which ultimately will have a positive influence on the breed.
The Ring of Champions program has created a new level of excitement among the exhibitors at the major shows. The take-home message we all need to understand is the cattle shows all across the country, from the small county fair to the major national shows, are our billboard for Simmental cattle paid for by the exhibitors. Even if you have never been in a show ring, your neighbor may have seen a Simmental animal at one of these shows and remember you having Simmental cattle. Just think. An exhibitor from Alabama shows an animal in Denver, someone from California sees it and goes home and thinks of his neighbor who has Simmental cattle and gives him a call. Now that is a cool opportunity.
Platts: DNA technology is expanding and offering new opportunities for producers. What role do you see this technology playing in the future?
Moody: The implementation of DNA markers in the cattle industry has moved our ability to accurately predict individual traits forward at warp speed. With genomic testing, we now have EPDs of a calf with the same accuracy as having the data results from 20 progeny.
This high-accuracy prediction was made possible in part by ASA's Cow Herd DNA Roundup (CHR). Before CHR we had a fair amount of genotypes on bulls but very few records on mature cows. The CHR program gave ASA a huge increase in these much-needed genotypes. As the genotypes continue to come into our database, the accuracy of everyone's animals' EPDs will continue to increase.
Platts: Fostering youth involvement in the Simmental breed has been a priority for many years. What is your assessment of the AJSA?
Moody: The American Junior Simmental Association (AJSA) is ranked as one of the best among all breed associations. The AJSA program is the critical lifeblood to the future of ASA. Our juniors are truly remarkable; just look at the 2020 National Classic. This was the largest
National Classic ASA has seen and in the middle of a pandemic. We not only saw the largest number of participants, but also the largest number of animals entered.
Our hats are off to the entire staff for their tireless work to pull off such an excellent event. My message here: stay tuned! I look to see great things coming from our juniors. I hope to see you in Grand Island, Nebraska, this summer for the 2021 National Classic.
My message here: stay tuned! I look to see great things coming from our juniors. I hope to see you in Grand Island, Nebraska, this summer for the 2021 National Classic.
Platts: Comment on the importance of the ASA Foundation.
Moody: The American Simmental-Simbrah Foundation is something that should be promoted each time you have the opportunity to talk Simmental. Our Foundation has four main pillars: education, research, youth and general. The Foundation Board is a working board, charged to raise funds for all four pillars. The Merit Award scholarships are 100% funded from the youth pillar, Fall Focus receives substantial funding from the education pillar, and there are research projects that the Foundation supports. I challenge each member to look at the good work generated from our Foundation and make a serious pledge to support the continued efforts of this Foundation.
Platts: The Simmental breed has a long history of involved state associations. What role do you see these localized groups playing for ASA?
Moody: Our state associations are an absolute must in the overall structure of ASA. The state associations know their region best, and what needs to be done to promote SimGenetics in their state. Also, the state associations are the best place to get acquainted with ASA and how it functions.
Platts: As Board Chairman, what role would you like to see members play in the decision-making process?
Moody: It is amazing to watch as great ideas and programs develop. One may think their idea or opinion does not have merit, but this could not be further from the truth. As you watch and study how research and other programs evolve, most start from a casual conversation, and ask, "do you think this is possible?" Most of the time this conversation is in the hallway of a meeting. We need you in the hallways of our meeting asking the question, "is this possible?"
Platts: Technology is continually changing the way we communicate. How can we balance staying up-to-date with giving members the information they need through ASA's publications?
Moody: In this electronic age, one may question the future of our printed publications. My thoughts are, as long as our publications are printed and designed in the format that we know today, they will have their place. I consider the Register to be a coffee table book that stays for a month until the next issue takes its place. Also, there is a certain population that just likes to have the publication in their hands to read.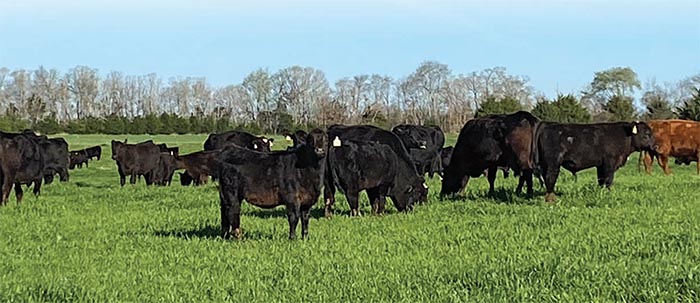 Details

Created: 21 May 2021
Hits: 835