Superior Beef Genetics develops high-quality, proven cattle for their commercial buyers.
by Emme Demmendaal
Combine the commitment to provide high-quality genetics to commercial customers with the dedication to collect data from grass to grid, and you have a recipe for success in the beef industry. Superior Beef Genetics (SBG), a partnership seedstock and commercial cattle operation, fits the bill on all counts. Located on the flat prairieland of Lamar, Missouri, the Massa, Kentner, and Runnels families jointly manage 400 registered and 250 commercial Simmental, Angus, and SimAngus cows, alongside a custom feedlot. Through hands-on data reporting to make strategic breeding decisions, SBG develops performance-oriented bulls and heifers built for handling the hard fescue that characterizes much of the South, yet adaptable to the North's colder climate. The partners manage their herds separately but collectively remain committed to creating quality genetics for their customers.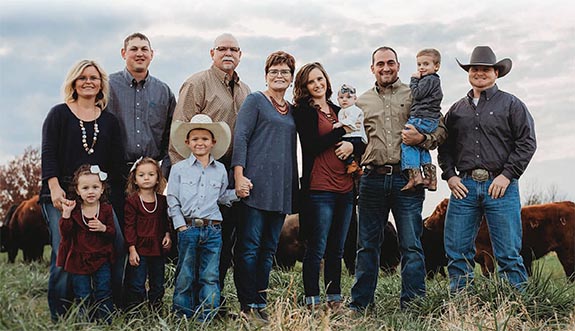 The Massa and Runnels family, top row left to right: Allie and Clay Runnels, Russ and Denny Massa, Makensy (Massa) Schmidgall holding her daughter Nora Schmidgall, her husband Isaac, holding their son, Elliot Schmidgall; Dylan Massa. Bottom row left to right: Olivia, Elsie, and Cole Runnels.
Selecting Genetics for the Customer
Rooted in dependable cow families and proven genetics, Superior Beef Genetics finds that by looking at the big picture they stay committed to data reporting and genomic DNA testing. The information they receive back from the Association helps them make more informed decisions for their own herd, develop the best bulls and replacement heifers for their customers, and ultimately to provide the highest-quality animal protein to the consumer.
"We put a lot of emphasis in providing our customers with as much actual data as we possibly can so they too can see what these genetics are capable of doing," SBG partner, Allie (Massa) Runnels explains. "We have a few customers who finish out their own cattle and get paid on the grid. So we understand the importance of the value-added product in the end."
The Massa and Runnels families are predominantly spring calvers while the Kentners primarily breed for fall calves. Spring calving starts in mid-January and wraps up 60 days later, right before their production sale on the fourth Tuesday in March; while fall calving is from the first of September to mid-November. The operation usually implants up to 75 recipient cows and AI breeds another 150 females to capitalize on proven, modern genetics, and select top herd sires for cleaning up the rest of the herd.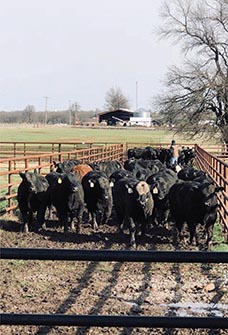 "At the end of the day, it's our job to provide the most meat, in the most efficient manner, to the world," she says, explaining why SBG collects data from birth weights through weaning, yearling, and the mature cow herd. "We have to continue working to find a way to make healthy, high-quality animal protein the most efficient way possible. That's why as seedstock producers, we collect data — we test our breeding stock — this information helps the commercial cattleman with the next step in producing the best beef possible."
In October, as they are finishing fall calving, spring-born calves are weaned and sorted. All retained bulls are put on performance tests by the middle of November, and the calves that don't make the cut are steered and sent to their feedlot. Fall-born calves are weaned and sorted by mid-May, and the bulls are on test by July. SBG feeds out and tests their bulls themselves and collects carcass ultrasound on each bull for a better prediction on carcass traits like IMF and REA.
Combining DNA genomic testing with phenotypic data has improved their ability to reliably select their top genetics, Runnels says. "I think what made the biggest difference for me was the improved accuracy on our EPD. Along with testing our bulls, genomic testing and parent verification were just one more step that we have been able to take in order to ensure the validity of our genetics, allowing us to stand even firmer behind our product."
In 2018, SBG changed their sale from an open-house, private-treaty sale to an auction. The change allowed their customers and current market to set the price. She says, "My brother and I both presented the older generation with the idea of switching our sale format over to a live auction. We were tired of pricing our animals and we felt it was time we let the customers decide what they were worth. It was a risk to switch formats, but it's also been our biggest blessing."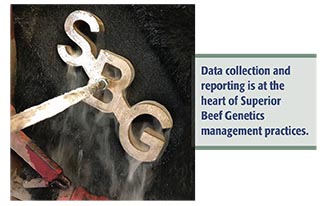 Three years ago, commercial replacement heifers were added to the annual sale for commercial customers who didn't have the ability to develop replacement females themselves. "We understand the struggles of the feeder cattle market. We understand the neverending list of input costs and the difference conception rates can make on all of these. Not everybody is in a situation where they can develop their own replacements."
Runnels continues, "Some of our biggest customers are row crop farmers that have a piece of ground that they are unable to farm and they just need to put cows on it. They need a bull they can depend on to breed their cows, cows that are easy fleshing as well as handle with ease, and in the end wean off good calves that they can get a good price for. That's what we aim to sell."
When making selection decisions for replacement heifers and sale bulls, stayability and balanced traits are the forefront of decision making. "We like high-performance EPD and we like balance. Our focus on Stayability always seems to rise to the top in our herd as well, as we know the true importance of a long-lasting cow family, and the difference retaining those cows year after year can be on your end dollar." Runnels summarizes, "We like a pretty cow that is deep bodied, easy keeping, and overall just a good momma with lots of milk." By paying attention to feet and legs, docility, and moderate-framed cow families, Runnels feels they are providing long-term genetics for their customers. "First and foremost, our cows also have to be easy keepers, especially the bulls we sell to our customers. We watch overall gain and phenotype, but because they are raised on fescue, our cattle can transition to almost any climate."
Commercial and Feedlot Invested
In addition to testing their own bulls, SBG uses their own genetics in their commercial cow herd and feedlot. The commercial herd is composed of the half-Simmental, half-Angus genetics. Runnels says, "In my opinion, the perfect commercial cow is the SimAngus cow, half Angus, half Simmental. They just do a really outstanding job of being low-maintenance females that produce high-quality calves for the feedlot."
By standing in their customer's shoes, SBG makes more informed decisions at the seedstock level. "We take the exact same genetics that our commercial customers are buying, and we use them on our own commercial herd. We are putting ourselves in our customers' shoes to understand the importance of calving ease, growth, docility, carcass traits, and so much more within the commercial cattlemen's world."
Initially, the commercial calves were predominantly sold after weaning, but a few years ago, SBG started focusing on backgrounding and feeding out their genetics to get a better picture of what the calves were doing after weaning.
A custom feedlot was built to feed out SBG calves as well as a few other customers'. "It's been a new option for people in the area because there are not many feedlots or custom feeding opportunities close by."
Last year, SBG finished around 80 head of steers and heifers in their feeding facility. By retaining ownership, they got data back on the carcass quality. "After watching the calves all the way through from calving to rail, we pay closer attention to marbling and ribeye. We don't like to single-trait select, but if two bulls have it all, we use the bull with better carcass traits."
The commercial herd and feedlot also gave Superior Beef Genetics a feel for how the cattle markets were affected by COVID-19. "With the way the pandemic affected all the processing plants, we couldn't get our cattle in fast enough when they were ready and had to keep them on feed even longer. With that being said, we did have a few selects due to over-fats, but for the most part, 80% or more were choice and above."
At that time they had a surplus of corn, so SBG decided to feed out and sell a few animals directly off the farm.
"Once we got past the pandemic issues, it was pretty neat to see how our genetics hung on the rail. Granted, there were outside influences that highly influenced our decision to feed out our cattle, but it was fun to see not only our genetics go to help commercial producers, but also to help people fill their freezers — to give back.
Tied to Their Roots
Starting back in 1998, Russ and Denny Massa raised commercial cattle using registered Angus bulls from Dave Nichols, Nichols Farms, located in Bridgewater, Iowa. Two years later, Nichols presented an idea to start Nichols Farms of Missouri to the Massa family and three other individuals, including Darrell Kentner, a current partner in Superior Beef Genetics.
The Massa family was introduced to the seedstock industry by working as an extension of Nichols Farms. The operation benefited from Nichols's guidance, while the partners retained the autonomy to make breeding and selection decisions as each partner saw fit.
Allie Runnels, Russ and Denny's daughter, says, "We owned and managed our herd on our own, but greatly benefited from Nichols Farms of Iowa's marketing and advice as we stepped into breeding seedstock."
Kentner and his wife, Cindy, have been raising Simmental cattle since 1995, and with Kentner's and Nichols's influence, Simmental was incorporated with the Angus genetics to raise Angus, Simmental, and SimAngus bulls.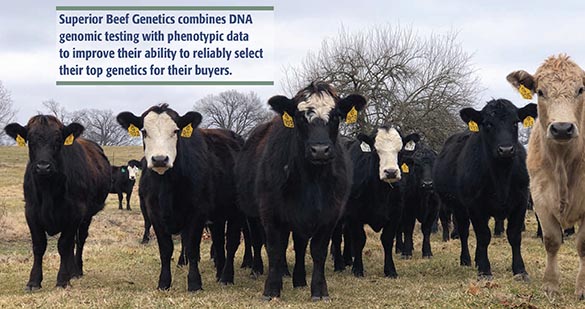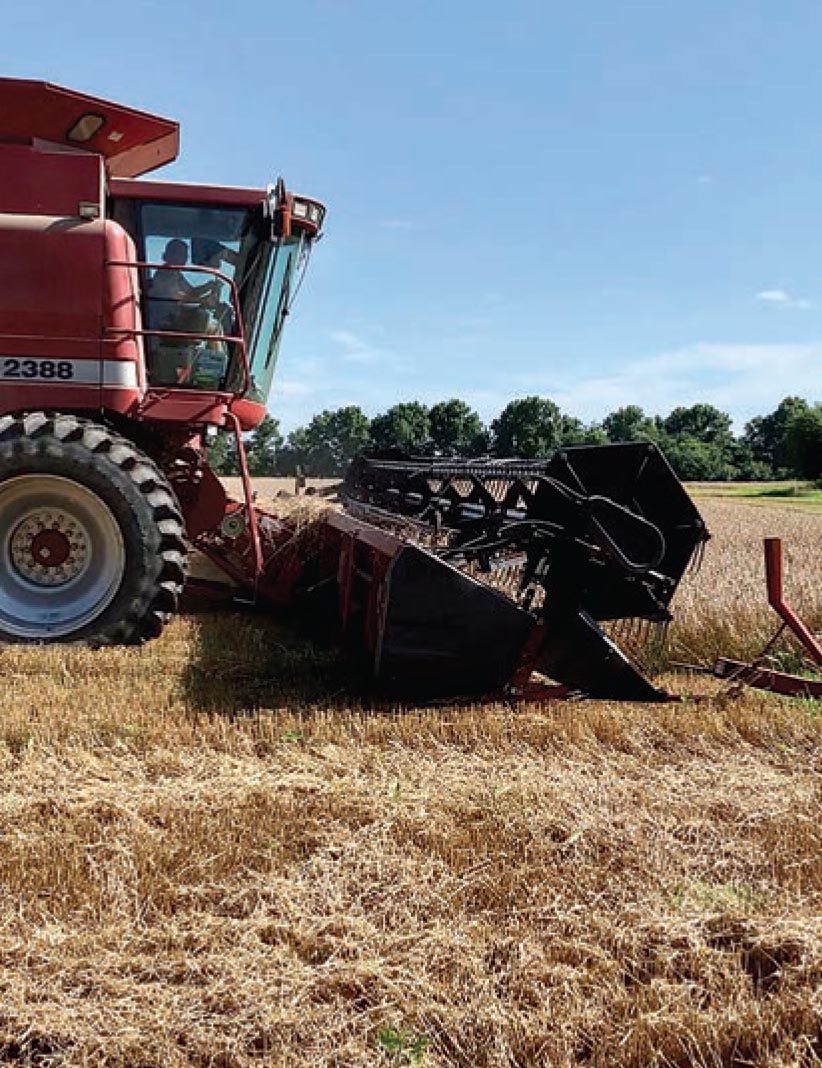 "There are a lot of hybrids out there, but I can't imagine any of them working as well as SimAngus does," Runnels says, highlighting the heterosis that benefits cross-bred commercial herds. "Heterosis is one of the strongest tools with our commercial customers as we feel it can positively change a herd quicker than anything else. SimAngus are moderate-framed, easy to keep, and stay in the herd longer." As the years progressed, Allie and her younger brother, Dylan Massa, started to get more involved in the operation as the other two partners of Nichols Farms of Missouri went separate ways. It was around this time that the Massa and Kentner families created their own seedstock partnership operation. "We stepped away on great terms with Nichols Farms of Iowa and the other two partners when we started SBG." Runnels shares, "We named our operation after Nichols's tagline, Superior Beef Genetics. Our roots are still connected to them. We still hold the same values we did with them, and they've taught us a lot about what it means to provide for the commercial cattlemen." In 2009, Allie married Clay Runnels and their combined herds formed the third partner in Superior Beef Genetics. "Everyone has their own strengths, even down to their herd. We try to breed with the same goals in mind, but we choose different bulls, so there's always a good variety of bloodlines to meet our customers' needs."
While Russ and Denny Massa are still active in SBG, their three grown children, Allie, Makensy, and Dylan, handle most of the daily operations. Allie and Dylan are heavily involved with feeding, data, and herd selection decisions, while the middle sibling, Makensy, helps her husband run a millwright business and is a huge asset to the operation by always lending a hand to help watch kids while everyone is working. She helps out with the cattle and production sale as much as possible. Allie and Clay are the parents of three children, Cole, Olivia, and Elsie. For Allie, working in agriculture is a part of who she is and how she plans to raise her children. She shares the impact of raising good seedstock and raising her children are all tied together, "At the end of the day, we are commercial cattlemen and cattlewomen at heart. We're just a small piece of the big picture and we are doing all we can to make good people out of our children and feed the world with the most efficient, highest-quality beef as relatively possible. There is no better lifestyle to raise hard-working kids and do your part to make an impact on the world, than that of agriculture."
Details

Created: 23 July 2021
Hits: 612