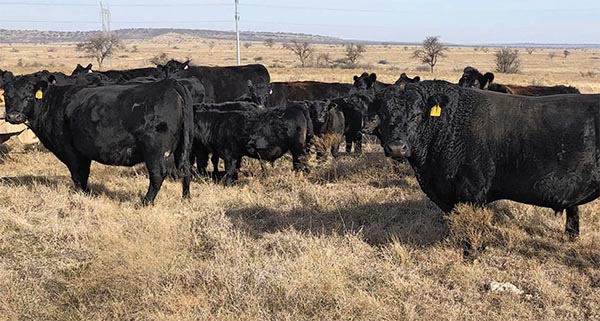 Cooper Ranches, located on the productive rangeland of Throckmorton County, Texas, has found success using Simmental genetics to increase efficiency and add consistency to their cow herd. Cooper Ranch females are expected to perform without coaxing and wean a calf that not only makes a profit for the ranch but also goes on to excel for the feeder. Glenn Cooper, the third generation on the operation, and his son, Wes, the fourth generation, manage the business. Rick Ward came on as ranch manager in 2004, bringing with him the Simmental breed, and has since worked with the family to improve the commercial cow herd through genetic selection, and to create females that work with their environment. Ward's cow sense combined with the Cooper Ranch management philosophy has made for a successful combination.
A Long History in the Cattle Business
Cooper Ranches began generations ago, running cattle and farming throughout the years. The cow herd and business changed with each generation. Glenn grew up on the family ranch, taking over management at 32 when his father passed. He quickly focused on expanding the ranch and cow herd. The core ground was expanded by purchasing adjoining places from relatives and anything else that was feasible. Taking over from his father made sense for Glenn, and the combination of land stewardship and building a cow herd was appealing to him. "I always enjoyed ranching," Glenn explains.
Wes, Glenn's son, grew up on the ranch and developed the same love for the cattle business and ranching. He attended Texas A&M before completing law school, settling in Fort Worth in part so he could be within driving distance of Throckmorton and the ranch. Today, they make decisions jointly and work together to continue improving the land and cow herd.
Rick Ward began working for Cooper Ranches in 2004. Ward grew up in Central Texas, attending school at Tarleton State. During that time, he worked for a veterinarian and got his start in reproduction work. In the 1980s, he set out on his own selling semen. When the company he worked under was bought out, he began working for Jim Newsom of Tex-Ann Cattle Company, Grandbury, Texas. During that time, he was able to lease a place and start his own cow herd. "Jim taught me a lot," Ward remembers. "He's a mentor to me and a really sharp guy."
During this time, Ward also became acquainted with breeders like John Collier, furthering his experience with the Simmental breed. After his lease fell through, Ward found himself with a new baby and family to take care of, so he looked to Throckmorton county, taking a job with RA Brown Ranch in 1988. For 11 years he worked for the historic ranch, handling Simbrah and Angus cattle. Ward explains, "The time came when I could stay or go, and I decided to go to work for myself. I had the opportunity to lease ground and buy some cows, and I also day worked and shod some horses."
Day work led Ward to Cooper Ranches, and after helping them he was offered the opportunity to work there full-time. Today, Ward is responsible for everything from feeding to genetic selection.
Focusing on Commercial Success
Ward not only brought a lifetime of experience in the cattle business, but also the Simmental breed to Cooper Ranches. In the past when he was able to run his own females, he ran SimAngus bulls and through this past experience knew that some Simmental genetics could vastly improve the cow herd at Cooper Ranches. Glenn's father had tried using some black Simmental bulls in the 1980s, but the cow size and other common issues of the time weren't a good fit for the commercial operation. They moved away from the breed and continued on with Brahman and Hereford cows. When Ward started, the cows — like many commercial herds of the time — lacked uniformity. "When I got here, there were quite a few Brangus F1 cows on one particular place, and there were some purchased cattle from here and there, mostly black, black baldy type cows, but not necessarily an Angus cow by any means," Ward recalls.
Since that time, the cow herd has been transformed to a primarily Angus base, with Simmental influence brought in through SimAngus bulls. "We've evolved into more of a straight black herd, nearly a completely closed herd, and raise all of our replacement heifers," Ward explains.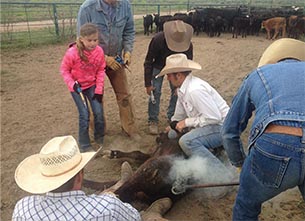 For Ward, bringing Simmental genetics into the herd simply made sense in order to meet their production goals. "I've always used SimAngus — my personal herd is basically first-generation SimAngus halfbloods — and it's always worked well for me, and I just filtered that into the cattle they have," he says. "Simmental has made great strides to fit the commercial cattleman. They are easy fleshing and maternal."
The Coopers have seen the benefits of focusing on genetic improvement, as well as the advantages Simmental brings to the program. Wes explains, "The overall handling of the animals is easier. The marketing is better. It's worked out well for us. We're turning out a product that there's a strong market for."
Glenn adds that Simmental has helped them hone in on the cow frame size. "Through genetics, we're weighing just as big a calf off that 1,100-pound cow as we were off a 1,500- pound cow, and she doesn't take up as much room or use as many resources. It's all about being efficient."
Prioritizing Management
The cow herd is managed to fit the environment of north-central Texas. Ward has the full-time help of one hired hand, and with the various places that make up Cooper Ranches spanning a wide area, the cows are expected to hold their own with little day-to-day hands-on management. During calving, Ward is comfortable letting the females calve without constant checking. "I feel comfortable about that choice, and it doesn't pay to spend the gas, time, and effort to be in those cows three times a day."
Calving is split between fall and spring to balance out any differences that may occur in the market over the course of a year. Any female that doesn't raise a quality calf or breed back is culled. In recent years, Ward explains that the conception rate has been around 92%. Glenn adds that their AI program with first-calf heifers has allowed for a lot of genetic improvement. He says, "We have a very strong AI program on our replacement program and in our semen selection. I know that when I started it was common for us to wean the first-calf heifer really early. Now, with the genetics in our cow herd, we wean 55% to 60% of that heifer's weight on her first calf. That was unheard of years ago. That's all due to genetics through the AI program, and improving our herd every year through those genetics."
The number of heifers kept back each year is very dependent upon the generational turnover of the cow herd. Typically, a cow will be around 11 when she has run her course as a productive female, and Ward explains that the culling of these females will come in waves. Consequently, the number of replacements kept back will ebb and flow with this cycle. When choosing replacement females, Ward focuses on balance. "I try to take the top third for condition and fleshing. They need to be deep with a lot of rib and fleshing, and also be feminine structurally, with depth, heart girth, spring of rib, and I also look at how they compare to all of the other calves at that particular time," he says.
For herd bulls — which will come from several sources, including the Cattlemen Kind Sale, RA Brown, and 44 Farms — Ward focuses on a similar principle of balance. Structural soundness, depth, moderate frame, homozygous black, and polled genetics, and average numbers across the board are all priorities.
The Texas grassland and open winters allow for Cooper Ranches to feed very little, only supplementing the cow herd with cake for around 100 days each year. Prickly pear and mesquite brush on parts of the ranch hinder some of its productivity, and improving these areas is a constant project. The average annual rainfall of 29 inches, native and introduced grasses make for good cow country.
Cooper Ranches has been following a natural protocol for some time, focused on eliminating the use of antibiotics and growth hormones in order to receive a premium for weaned calves. With a sizable farming operation, which is overseen by Glenn's father-in-law, wheat pasture is utilized to background weaned spring calves. Glenn explains that as the ranch has expanded, they have made it a goal to have enough cattle to stock their wheat pasture each year. Wes explains that the wheat pasture allows for them to prepare calves to be successful for the feeder and that it aids in keeping the weaned calves healthy.
Management combined with genetics has paid off for Cooper Ranches. Wes explains that they received carcass data on a group of around 300 calves this past year and that a good portion graded prime, with 78% being at least upper choice. The natural feeder that has purchased their calves over the past years continues to return, which signifies to the Coopers that they are creating a quality product.
As Wes explains, these decisions add up to an endeavor that is sustainable and viable for the future. "You can manage genetics, people, and input costs, but you can't manage the weather or the markets. You can produce a product that you are proud of, and do it in a way that you're taking care of the animals and the land. If you're doing everything you should be, it's sustainable." Glenn adds, "It's about being good stewards of the land and taking care of the animals. For me, it's pride in ownership. It's being proud we are producing a product that keeps getting better as the years go by."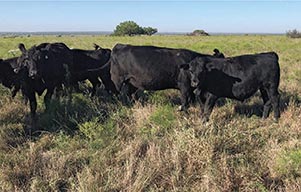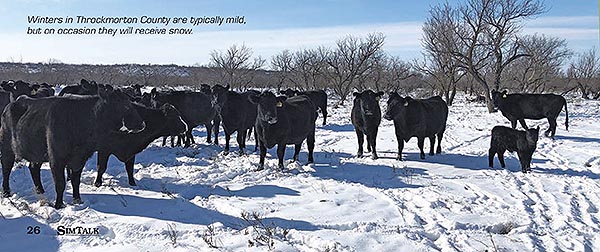 Details

Created: 27 August 2021
Hits: 441