by Lilly Platts | Ishee Bred Simmentals raises performance-focused genetics for commercial and registered producers alike.


Ishee Bred Simmentals, Laurel, Mississippi, produces performance-focused genetics and has harnessed new technology to do so since the beginning.
Tim Ishee is the fourth generation on the family operation and has been in the Simmental business since he convinced his father to AI a group of their cows back in 1981. After seeing the added performance the breed offered, he continued to exclusively AI the cow herd for many years, breeding up to a high-quality seedstock herd. Today Ishee remains invested in offering powerful genetics to commercial and seedstock producers alike and believes that calving ease, performance, maternal traits, and carcass traits are the formula for success.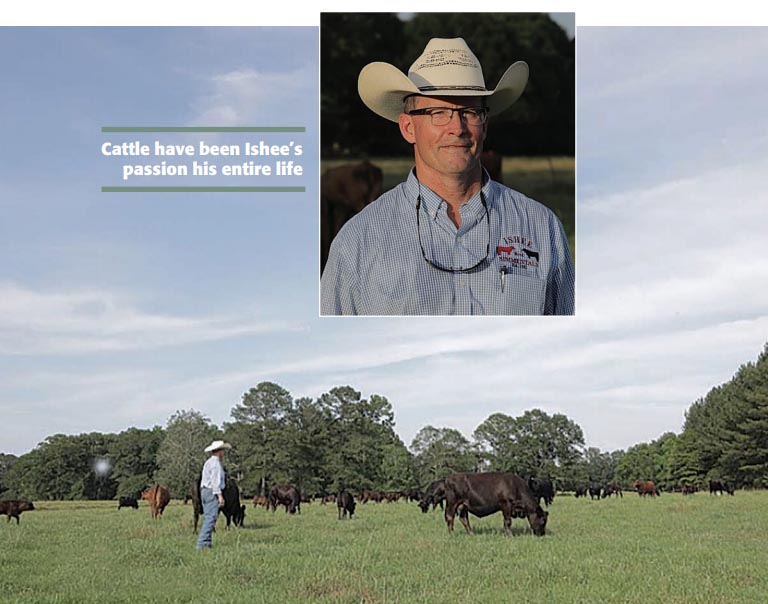 Making the Move to Simmental
"My great-grandfather and grandfather were in business here. They were Hereford breeders. I bought my first cow when I was 12 years old and went on in business with my dad and grandfather. My grandfather got out of the business, so then it was just my dad and myself. We had a really good herd of English-cross cows," Ishee remembers.
When Ishee attended Mississippi State University, where he earned a BS in agricultural education and an MS in animal science, he realized that the family cow herd could be doing a lot more by introducing new genetics. Ishee discussed the possibilities with his father and decided to call on the unbiased data from the Meat Animal Research Center to decide which breed they should introduce. This led him to Simmental genetics, and, in 1981, he convinced his father to let him AI a small group of their females. His father was hesitant, due to the stories he had heard of AI technology being unsuccessful, but Ishee was able to get each cow to conceive. The next year, the resulting calves were proof that this was a successful plan. Ishee remembers, "When the calves came the next year, at weaning they were 100 pounds heavier than the calves by the Hereford bull."
For 17 years, Ishee AI'd the entire herd. They obtained genetics through the Carnation Genetics AI book, and later through ABS, with a focus on finding Simmental bulls with reasonable calving ease and good growth. The available metrics on each bull were minimal compared to today's robust suite of EPD, and Ishee felt the need to hone in on the specific needs of their cow herd in making breeding decisions. He recalls, "At that time, we had EBVs (Estimated Breeding Values) and didn't have a lot to pick from, so I made my own selection index from the EBVs."
Ishee still has the bull book where he created his own system for evaluating the EBV of each bull. That same analytical mindset continues to help Ishee make calculated breeding decisions.
Forty Years of Simmental
Ishee's commitment to performance has sustained the business over the last four decades, and today, Ishee Bred Simmentals is a trusted source for data-backed performance genetics. Ishee explains that his program focuses on balancing phenotype and data.
"Today, I pick cattle based on phenotype — they have to be phenotypically pleasing with correct feet and legs under them, a moderate frame, big-bodied — and they also need to have good EPD, performance numbers, carcass scans, and now DNA."
Southern Mississippi's climate can be extremely hot, but can also bring freezing rain and other intense temperature changes. Focusing on cattle that shed quickly and can adapt to varying temperatures has been important to Ishee, and has also allowed him to build a diverse customer base. Ishee Bred Simmental genetics have gone into states from Montana to New Jersey, as well as internationally, including Canada and Mexico. Ishee recalls a customer in Montana who was able to finish a group of calves in 14 months, which graded over 80% choice with 86% at yield grade one or two. He also has customers in extremely hot parts of the country and in South America who are able to add Simmental genetics to their Brahman-based herds. Adding ear to cattle can be essential in order for them to survive heat, but it can also be detrimental to carcass traits. Ishee explains that this is where Simmental genetics can become beneficial, as the breed can already be tailored to hot climates while maintaining carcass quality. Ishee has been extremely involved in helping South and Central American producers improve their herds, and notes that he really values these experiences. "They are some of the fastest learners I've ever been around," Ishee says. "They are just a pleasure to work with."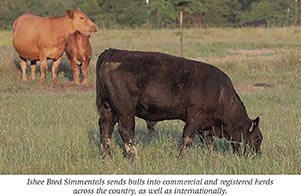 Ishee explains that this adaptability comes down to heterosis. "Heterosis is the only 'free lunch' in the cattle business. We can use it to get a big upswing in things that really count, particularly when it comes to fertility on the maternal side. You can also pick up a lot of benefits with accelerated growth. It's a win-win for everyone."
When Ishee experiences hesitance in new customers, who may be concerned about past issues in the breed, he encourages them to start with a quarter Simmental bull, and move up from there. "When they see that first cross of SimAngus on Angus, they are going to get a little bit more of everything, and that opens the door for a halfblood, three quarter, and eventually a purebred."
Longevity is extremely important for profit, and Ishee explains that he has seen how Simmental genetics can add stayability to a herd. "You don't get a payday out of a heifer you raise until she is almost three, and then it probably takes another year or two to break even. So, you need to make sure you have longevity bred into your cattle, which covers a lot of traits like feet and leg structure, and teat and udder structure.
These traits and more bring commercial and seedstock producers to Ishee Bred Simmentals for bulls. Each February, they hold their K.I.S. (Keep It Simple) sale. All bulls are base-priced, and on the day of the sale, customers come to place bids on their desired bulls. This allows customers to study the bulls and make thoughtful decisions.
Sticking with Simmental
When asked why he chose the Simmental breed in the beginning, and why he has chosen to stick with it, Ishee explains that he has always known that doing something different would be vital to being successful. "I'm a contrarian by nature, and my dad was, too. He always said, 'If you're not the lead dog on the sled team you know what your view is.' So, when everyone went one way, I went the other. When Simmentals in the mid-1980s and 90s got much bigger, my dad said it would be much better and much wiser to stay in the middle of the road with big-bodied, functional cattle, and we did. We ended up selling bulls to a lot of major breeders in the Southwest."
Ishee explains that the variety in the Simmental breed makes it a valuable part of the beef industry. "Simmentals can offer a lot. We have a big, diverse gene pool to pull from, and you can find any trait or a number of traits that you want. Also, we have the $API and $TI index, which makes it simple for commercial producers to dial in what they want."
Carcass scanning has been important to Ishee for many years, and, more recently, he has taken advantage of genomic technology. "We know that with genomics we can take a very young sire, and before he even produces calves, we can raise his accuracies and see a better snapshot of his EPD potential," Ishee explains. "It is just going to get bigger and more complex as we go."
These tools have helped Ishee make sustainable progress in his cow herd over the years. "If you try to use all of the traits and move everything, it's a slow go but it pays off in the end," he explains.
This focus on balancing traits and utilizing new tools has allowed Ishee to raise a number of breed-leading sires. Mr Ishee Red Density, ASA number 2466650, went into stud at Select Sires, and was a successful part of the Ishee program. "He's probably one of the best carcass sires that have come from here in a long time," Ishee says.
from here in a long time," Ishee says. Recently, Mr Ishee Justified 605D, ASA number 3157470, has been a standout for the program. Owned in partnership with Fred Smith, this sire's numbers and performance stood out from the beginning. Ishee takes a lot of pride in producing these top-tier genetics. "It makes it a lot of fun. It puts a star in your crown because that's the thing I've been working for my whole life, to produce a bull like that."
For the Future
The cattle business has been the primary focus of Ishee's life, and he is now working alongside his son, who is the fifth generation at Ishee Bred Simmentals. The cattle business has provided for Ishee over the years, helping raise a family and put his kids through college, and he is thankful for the opportunities it has provided.
"I really love working with cattle people," Ishee says. "They are some of the most interesting people that you will ever come into contact with. They are nurturing people, they love to grow things and see new crops and new babies. They are very adaptive as well, and some of the fastest learners I've ever been around.
"It's just a pleasure to work on the farm my grandfather started with my great-grandfather. We're continuing to try and do better all the time," Ishee concludes.
Ishee Bred Simmentals was featured in the Stand Strong Simmental series in 2020.
Details

Created: 27 August 2021
Hits: 1034