An interview with 2021 AJSA president, Martha Moenning
Martha Moenning, the 2021 AJSA president, grew up in small-town Hayfield, Minnesota. Growing up, her family grew crops and fed out dairy steers. In 2012, Moenning became involved with the Minnesota Junior Simmental Association and the AJSA. She and her siblings purchased show heifers from the Kaehler family, and with the help of breeders, grew their herd and started attending regional and national shows, including AJSA Classics. In addition to becoming more involved in showing Simmental cattle, Moenning became involved in leadership, and is now serving as the 2021 AJSA president.
Moenning earned an associate's degree in animal science from Butler Community College, where she was a member of the livestock judging team, before moving to South Dakota State University (SDSU) where she is a junior majoring in animal science and minoring in meat science. At SDSU, she is a member of the animal judging team, which she is extremely passionate about. In her spare time, Moenning enjoys cooking.
Platts: What were your thoughts as you became an AJSA member, trustee, and AJSA president?
Moenning: Becoming a member of the AJSA changed the trajectory of my life. I learned so much, gained new skills, and developed connections with people across the country. I always had a desire to be able to give back to this organization. One of the ways I felt I could make a difference and serve others was by running for a trustee position. After my first term, I felt like there was still more that I could do, which led me to run for my second term. To be elected as the AJSA President is an absolute honor. This year has been surreal — I can see just how much I have grown because of the AJSA. My journey in the AJSA is a testament to this program and how it changes the lives of young people. I hope that through my presidency, junior members are encouraged to reach their goals in the AJSA.
What would you like to see accomplished during your term as president?
During my term as president, it is my goal to maintain momentum for our breed. The AJSA is growing at a rapid rate. While this is exciting, some areas could be improved to better fit our expanding membership. During my term, I hope to work closely with the AJSA and ASA boards to develop solutions that create better experiences for our members.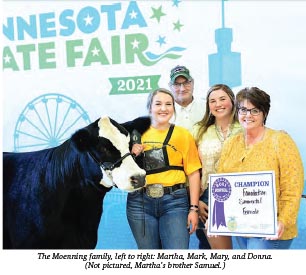 Any particular AJSA events or experiences that are especially memorable to you?
Being a mentor to young people in the AJSA Mentor-Mentee Program is the most memorable and meaningful. At the 2018 and 2019 National Classics, I served as a mentor to new AJSA members. Being a part of their start in the AJSA was incredibly rewarding. Throughout the week I worked closely alongside my mentees to help them prepare for their educational contests. Together, we evaluated practice judging classes, wrote example sets of reasons, analyzed EPD sets, and prepared sales pitches. Seeing those young people gain confidence and excitement toward the AJSA is something I will forever cherish. Witnessing just how much they have grown and improved since my mentorship is also impactful. I could not be more proud of my mentees and will continue to support their journey in the AJSA.
What are the strengths of the AJSA program?
Undoubtedly, the strength of the AJSA program is our young people. Their competitive mentality, friendly nature, bright minds, and respectful attitudes make our association so strong. In addition to our outstanding members, the emphasis on educational contests is unique to the AJSA. The exposure to these industry-relevant areas allows the AJSA to be a consistent cultivator of well-rounded, prepared, sharp, and driven young people.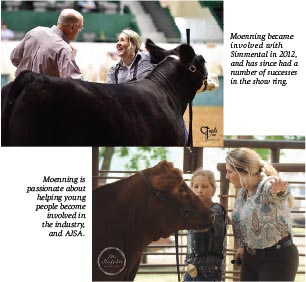 Why is it important for our organization to encourage youth in the breed and larger industry?
Young people are the foundation of the breed. The way that our organization leads, supports, and prepares our youth will shape our future. By investing in our youth we are ensuring that the breed will be in good hands for many years to come.
What advice would you offer to juniors who are reluctant, for whatever reason, to become involved in AJSA programs?
I would tell juniors that I get it. I've been there. When I started, I felt incredibly overwhelmed. At my first AJSA event, there was so much going on, the educational contests were daunting, and I didn't know anybody. Looking back, I am so grateful that I stuck with it. Through the AJSA, I have gained lifelong friendships, been exposed to relevant experiences, and have discovered some of my greatest passions. The AJSA has truly shaped me into the person I am today. The AJSA is here for you. If you're new, I'd love to meet you and help you navigate your next AJSA event.
What helped you decide to step up as a leader in the AJSA?
I had a strong desire to give back to the AJSA, but I was originally hesitant to run for a trustee position. All it took was a bit of encouragement from friends and former trustees like Kaylie Huizenga, Clay Sundberg, Kara Cloud, Teegan Mackey, and many others to give me the confidence to go for it. I'm very grateful for the friendships I gained from the AJSA.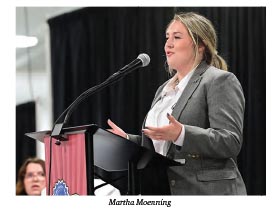 Comment on the value of the following ASA programs: Steer Profitability Competition (SPC):
The Steer Profitability Contest was one of the most beneficial experiences I have been a part of as an AJSA member. Through the monthly webinars, I learned a wide variety of useful information about raising cattle in a feed yard. I was then able to apply what I had learned into the monthly project, which further enhanced my knowledge. I loved my time as a contestant and gained so much through the SPC. This program is tremendously valuable. I would recommend all AJSA members participate!
the Register and SimTalk magazines:
I love reading the Register and SimTalk magazines. Not only do these publications keep our association informed, but they are also a great tool for AJSA members. In these magazines, readers can get insight from the AJSA board, learn about opportunities, and hear valuable advice. This is a great way to keep up with our association throughout the year!
Details

Created: 25 January 2022
Hits: 243