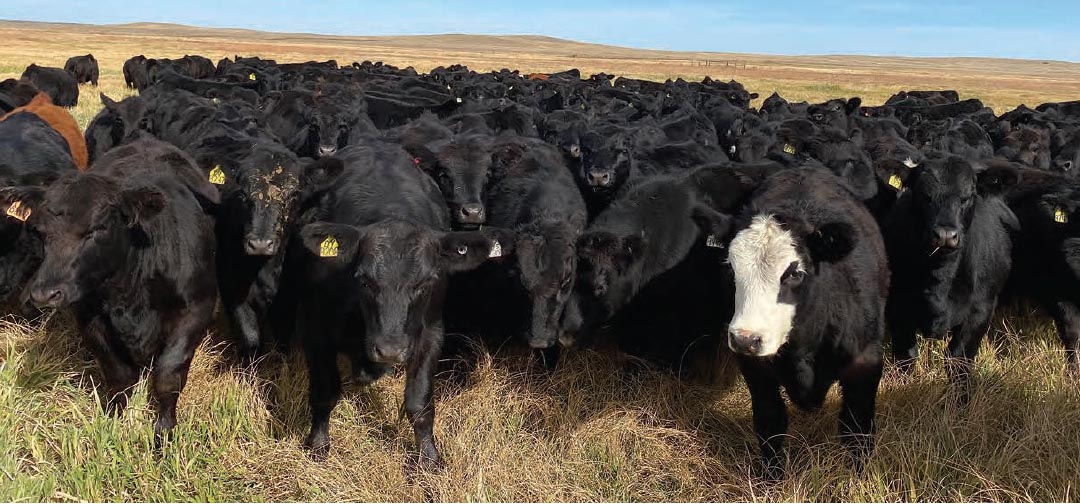 Powerline Genetics, Arapahoe, Nebraska, uses a unique, innovative model for developing and marketing SimAngus seedstock. By partnering with a select group of breeders — "genetic multipliers" — they are able to offer only top-tier bulls for sale. The business was originally started by JD Anderson, and four years ago, Jeff Stagemeyer joined as an owner and partner. Bobbi Hartwig holds a number of responsibilities, including serving as sales and marketing manager, being involved with the daily management of the bulls, and fronting communication efforts. Powerline Genetics markets around 500 bulls annually, has developed regional markets and has a strong customer base of commercial producers. Above all, they believe that all genetic decisions begin with the end product in mind, and their larger goal is to make sure that calves sired by Powerline bulls bring premiums from weaning to the rail.
Powerline Genetics has a long history in the beef industry, and has built a unique business model to market only the best SimAngus genetics.
Beginning With the End In Mind
Both Anderson and Stagemeyer bring extensive experience in feeding cattle to Powerline Genetics. Anderson is the fifth generation in his family to feed cattle; Stagemeyer is involved with his in-law's NA Timmerman Inc. Cattle Feeding, which runs yards in Nebraska, Kansas, and Colorado, with an overall capacity of over 80,000 head. When Anderson started the business, his first priority was to make decisions that would ultimately increase the profitability of finished cattle, and yield the best possible carcass.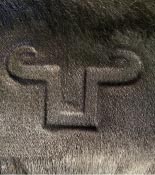 Powerline Genetics strives to market bulls that will sire vigorous, live calves that will have the kind of consistent growth and performance to maximize weaning weights while also being able to mature and succeed in the feedlot. In the end, they also want to see superior carcass traits that bring a premium at harvest.
Stagemeyer explains, "For us, it's having a nice size calf at birth with enough vigor and heterosis to get them to the end. We want them to have enough maturity left in them so they can make it all the way to a fat steer."
With a focus on commercial customers, Anderson says there are two priorities. "The first thing is convenience traits. Second, they want performance. The producers who don't retain ownership want weaning weight, and the producers who do retain ownership understand that the end product needs to be a 1,500-plus-pound steer or a 1,400-pound heifer, minimum," he explains.
Hartwig explains that instead of displaying a traditional EPD set in their catalogs, they have grouped specific EPD traits, intended to help customers choose bulls that will fit their individual goals. Additionally, any trait that is in the top 35% of the breed is highlighted. Calving Ease, Birth Weight, and Weaning Weight identify "rancher convenience bulls"; Milk, Stayability, and $API identify "cow maker bulls"; Yearling Weight, Intramuscular Fat, Ribeye Area, and $TI identify "power grid bulls"; and Birth Weight, Weaning Weight, Yearling Weight, Marbling, and Ribeye Area are grouped together as "performance data."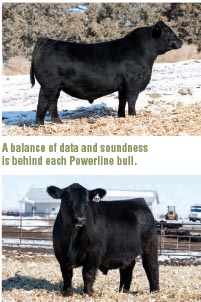 Beyond numbers, Powerline Genetics prioritizes the practical traits that are necessary for their bulls to succeed in a commercial setting. Stagemeyer says, "Because we have bulls that go to rough country, they have to be sound and functional."
Quality development and management is key to making sure bulls are not only genetically superior but also physically capable of doing their job. Hartwig explains that bulls are sourced from herds with strong health programs, are screened post-weaning and prior to arrival, and are continually evaluated to ensure only the best bulls are sold. These bulls are sorted based on a number of criteria, from age to the market they will be developed for. Every bull, including those sold in January, have to pass a semen check prior to sale day. While performance is a priority, Hartwig also emphasizes that cattle have to be phenotypically correct and attractive.
Docility is an additional priority. Hartwig says, "Disposition is a big sorting factor, because no one wants a problem. Any bull with a bad disposition is gone."
Powerline Genetics also has the advantage of helping their customers retain ownership on calves. With access to feeding and extensive knowledge of the business, they offer assistance to bull customers who are interested in diving into the business of holding on to their calves after weaning. Stagemeyer explains, "We can share with our customers the opportunity to see what's under the hide. We can show that these cattle have premium carcass traits. Retained ownership allows producers to try and achieve even more for their hard work and genetic investment."
A Team Effort
From genetic multipliers to the employees, collaboration is at the heart of the Powerline business. Hartwig came to the operation in 2018, bringing with her a passion for the beef industry. Today, Hartwig is responsible for a variety of tasks, ranging from building catalogs and taking videos to processing bulls through the chute. While this is a lot of responsibility, Hartwig explains that being involved in each of these pieces allows her to know the bulls and do a good job of managing and marketing them.
Stagemeyer explains that Hartwig plays a key role in the success of the business. "Bobbi does everything. She sorts, processes, freeze brands, takes photos, and videos all of the bulls. By the time they've gone through her process, if there has been a problem, they are already gone. She knows all 500 bulls, and I think that part of the development process is key. You have to surround yourself with the right people. You need people who are big-picture thinkers and creative, and Bobbi is a home-run hitter."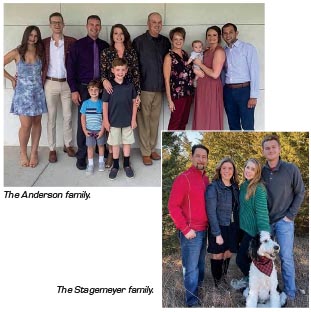 The entire team is driven by a love for the beef industry. Stagemeyer is passionate about improving the beef industry, and enjoys studying the factors that make cattle successful, especially through carcass data. "I enjoy studying data. I like to understand where a calf originated, what its genetic makeup is, how it was fed, and why that animal brought a premium," Stagemeyer says. "Through this analysis, we know our Powerline Genetic-sired calves are making the business better."
Hartwigs says that her love for the industry run deep, and from growing up showing cattle to her current position, she is passionate about raising cattle. In her free time, Hartwig spends time helping her boyfriend on his ranch in the Sandhills, and she recently purchased her own donor cow with the intention of building her own cow herd. "It's all I've ever known, and I can't imagine myself doing anything else," she says.
Anderson says that he also can't imagine himself anywhere but in the cattle business. "That's all I know. I grew up in it, and have spent all my life in it. I really like the people we've been involved with, and it's been very rewarding. I'm thankful I've been blessed to do what I do."
Powerline Genetics partners with five main SimAngus breeders:
• Grazers, Inc., owned by JD and Linda Anderson, and managed by Clint and Stacey Robinson. The top group of bulls from this program are put into the Powerline Genetics program, and the rest of the cattle are fed at the family feedlot.
• Joe and Hannah Wendell raise SimAngus seedstock near Bertrand, Nebraska. They have been a part of the program since the late 1990s. The bulls sourced for the Powerline program are developed for the January sale, and are set apart by their vigor and quick growth.
• The Meyring family calls northwest Nebraska home. They run a registered SimAngus cow herd, which are bred entirely by AI. Additionally, the family runs a commercial feedlot and a row crop operation.
• Heath and Courtney Wills have been a part of the Powerline program for a decade. They run a SimAngus cow herd, utilizing AI and embryo technology. Additionally, they operate a commercial feed yard and raise hay and other crops.
• Art and Marsha Lienemann have been sending bulls into the Powerline program for close to twenty years. Through AI and embryo technology they are focused on improving the genetics of their herd each year.
Details

Created: 17 February 2022
Hits: 327