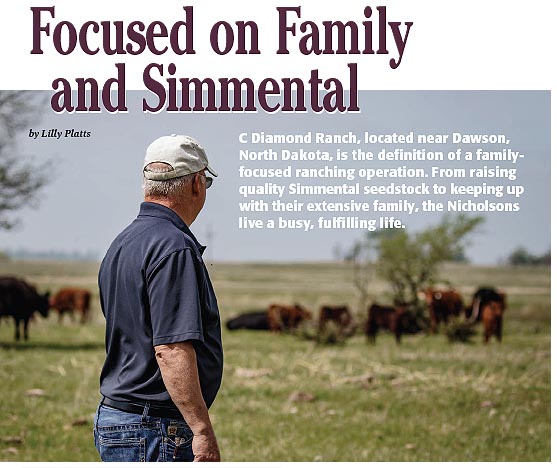 At C Diamond Simmentals, located near Dawson, North Dakota, faith, family, and Simmental are the top priorities. Neil and Carmen Nicholson operate the ranch alongside their extensive family and are focused on being a reliable seedstock source for commercial producers. Starting from the ground up, they emphasize feet, udders, and structure, in addition to EPD and data profiles in genetic decisions. The entire operation encompasses a registered herd, in addition to a commercial Simmental cow herd. Annually, C Diamond Simmentals markets around 75 yearling bulls, and offers a select choice of heifers. Volume discounts are offered, and potential customers are encouraged to visit the ranch and analyze their program. The Nicholsons are passionate about the Simmental breed, and with decades of experience behind their cow herd, they are a trusted source for seedstock.
A Deep History in North Dakota
The Nicholson family homesteaded just miles from their current home in 1906, and in the mid-1920s, Neil's grandfather moved to what is now the ranch headquarters. Today, Neil and Carmen and their son Wesley manage the operation, and Neil's father also continues to be involved.
Neil knew from a young age that he wanted to be involved in the family operation, and in raising cattle. "My dad helped me extensively getting started, and instilled a work ethic in me," Neil recalls. "When I was a sophomore in high school my dad was going to purchase additional real estate and asked me if I was going to come home and work. For my last three years of school I spent a lot of afternoons working at home. That's all I know."
In 1986, Neil married Carmen, and they made the decision to make a life on the family place. "When Carmen and I got married we decided that part of our life wasn't going
to change," Neil says.
Their son Wes has followed his father's path back to the ranch, where he is now raising his own family with his wife Kelsey. "I grew up helping on the farm. I remember working calves as a fourth- or fifth-grader, and knowing I had a passion for it. As I got older I got into sports, but was always focused on coming back to the ranch. I did a year and a half of college and decided to come home full-time," he recalls.
Today, Neil and Carmen's oldest son, Chris, and his wife, Julia, have their own operation, Lazy C Diamond Ranch, near Kintyre. They also remain involved with C Diamond. "We have always worked together, and we still do even though he's on his own place," Wes explains.

In addition to a busy schedule keeping up with kids and grandkids, Carmen is the business manager and helps out on the ranch. "Carmen is the glue that holds us all together," Neil says.
A Ground Up Approach
The Nicholson family's story with Simmental began in the 1970s, when they introduced the breed to their commercial operation and found that it added pounds at weaning, but were unable to get around the larger issues with the breed. After trying other breeds, they eventually came back to Simmental in the early 1980s, and have stuck with high-performance SimGenetics ever since.
Today, purebred Simmental is their main focus, and as Neil explains, they are experienced in the breed and use that knowledge to develop seedstock that complements other herds. With a large commercial market, C Diamond has found success in this model. Wes explains that the breed can offer a number of things to an Angus-based herd. "A Simmental bull would add muscle, frame, and fertility. It will add foot quality, structure, docility, and all of those tangible things we take for granted, like a cow that can walk, or milk well without developing a bad udder. Our goal is to make those things standard. We don't have the perfect cattle yet, but that is our goal."
Embryo transfer, artificial insemination, and natural service are all utilized to produce a diverse assortment of progeny, and both Neil and Wes bring their own unique perspectives to decisions. Neil's background in the commercial industry informs many of his decisions as a seedstock producer; he analyzes sires by considering the type of feeder steer that will be produced. The next generation at C Diamond, including Wes, analyzes matings with the female in mind. These diverse viewpoints not only keep the day-to-day conversations interesting, but also help create balance.
The Nicholsons are focused on making sure their cattle are strong in the basics before putting too much focus on numbers. As they explain, a female that checks all of the boxes for EPD and data but ends up being culled due to a structural issue is extremely disappointing and halts progress. To ensure that this doesn't happen, they begin by making sure the cows in their herd have the traits that will make them productive for many years.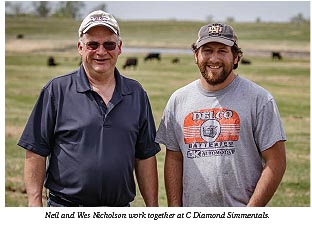 If these basic traits are present, EPD profiles and data are an essential part of selection decisions. C Diamond Ranch has participated in Total Herd Enrollment for many years, and is able to see a whole-herd view of their EPD profiles, weights, and other data.
The cow herd is managed with a strict culling protocol, and sires are evaluated even more closely due to their genetic impact. A bull must possess an adequate EPD profile, pedigree, dam production record, feet and leg structure, and eye appeal to make the cut in the C Diamond program.
Customer diversity is something the Nicholsons keep in mind when choosing genetics and bulls to develop for sale.
Wes adds, "We're trying to produce Simmental cattle that are high performing, muscular, have foot quality and udder quality. We want to produce that in a package that fits multiple areas of the country. We shoot for a six-frame animal, if not a little bigger. The cattle in our area are very high-performing, so people want a bit more frame. Farther south or west they may want more moderate cattle, and we have some that are, but our target is to raise cattle that fit in our area."
Carcass traits and the end product are always a focus. Bulls and replacement heifers are backed by several years of carcass ultrasound, and more recently, predictability is enhanced with genomic testing. This data is valuable for their commercial customers. Wes explains that he has seen an increased demand for efficiency and accuracy, and having years of carcass data is helpful when commercial producers are making decisions. "Commercial producers are looking for more pounds and the best way to spend their money. Things have been tight over the last few years so they want more efficiency."
One of the biggest challenges of raising seedstock is catering to the needs of each customer; from geographic differences to cow herd management, each customer is looking for something slightly different. Wes says that they have some customers who focus more on birth weight, and others who want big growth. C Diamond focuses on having a varied offering, but integrity is still the most important thing. Wes explains, "I talk to customers, ask what they want, and try to help them the best that I can. If I don't have what they need I'm honest and tell them. You'll burn more bridges by selling something a customer doesn't want than you will by just being honest and not selling to them."
Neil says they have repeat buyers and that they can gauge their success through these relationships. "We're quite pleased with repeat customers, which gives our program a boost. When our genetics work for someone, they will come back. We're getting new customers, some who have noticed that our program is used in other herds."

The Nicholson family uses a balanced approach when choosing genetics.
Driven by Passion and Family
Overall, a love for cattle and the land drives the family to remain involved in the cattle business. In addition to raising cattle, they farm oats, corn silage, sorghum, and alfalfa, all of which feeds the cattle. Central North Dakota is well suited for raising cattle, and is where Neil, Wes, and their families choose to make a life. Neil and Carmen have 13 children and also 13 grandchildren, all at various stages in their lives. "I would like for as many family members as possible to come back and work in harmony," Neil says. "We enjoy the freedom we experience living in rural North Dakota. It is a wonderful place to put our faith into practice, instill a strong work ethic, teach valuable life skills, and now, welcome the next generation to either become future ranchers or just ambassadors of the ranch life!"
Wes, like Neil, says ranching allows him to live a life he enjoys. "I love being outside and working with my family. I enjoy the work, and I appreciate my wife for letting me do it. I've always felt called to do this, and I have always enjoyed the challenge of learning and improving myself. From the beginning, I knew this is what I wanted to do. I'm excited to bring my kids up in this lifestyle, and I hope we can keep this operation going and that we can continue doing what we love."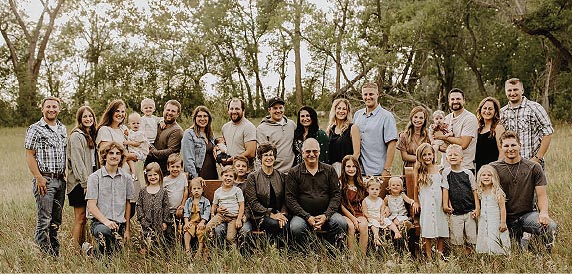 C Diamond Simmentals was featured in the Stand Strong Simmental video series.
Details

Created: 17 March 2022
Hits: 691