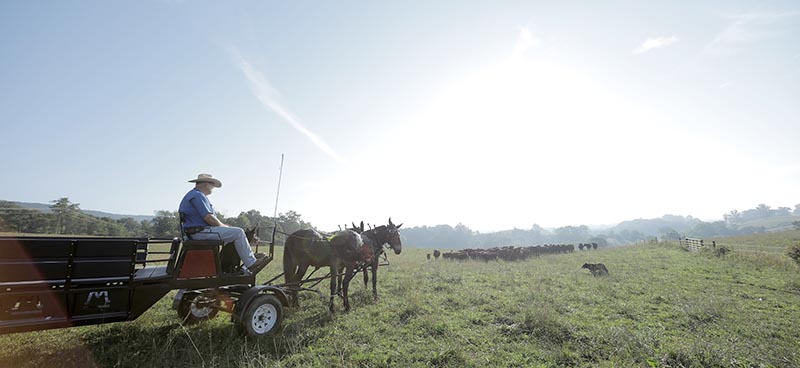 Dating back to 1763, McDonald Farms, Blacksburg, Virginia, has a long history in agriculture and the Simmental breed. Bill McDonald, who manages the family operation, has been a leader in the breed and industry and is committed to being a steward of the land and cattle. Fall Focus 2022 will feature a tour of McDonald Farms.
A Deep Family History
McDonald Farms has stood the test of time and the family is now approaching 260 years of tending to the same land. During the Revolutionary War the farm served as a depot, and early in its history it also housed a grist mill, a tannery, and was used for producing "McDonald Surefire" gunpowder. Bill McDonald is guided by this deep family history. "When Joseph McDonald and his family first came to Blacksburg he had ten children — nine boys and one girl. He was in his 60s, and they were all skilled in different aspects. They were self-sufficient — they built their homes from logs cut here, grew hemp for linen, and sheep for wool," he shares.
The first known herd of cattle on the McDonald farm was likely Shorthorn. Fast forward several generations and the family began raising seedstock. McDonald says, "When we started in the seedstock business we knew this area had a lot of Angus cattle already. Then, we knew the benefits of hybrid vigor, having used Simmental in a rotational cross before. So we felt like there was more genetic diversity within the Simmental breed to select from to find bulls and females that would complement the majority of the cow herds in this area, and across the country. We've been able to do that by selecting for homozygous polled and homozygous black cattle for our area. Having the wide, diverse genetic base that Simmental has, we've been able to select profitable cattle for the inputs at hand and the resources we have."
McDonald's decision to stay at the family farm simply made sense. He explains, "Coming from a long line of farmers on both sides of my families, it felt like I was bred for it. After graduating high school I attended Virginia Tech and got a degree in animal science. Then it seemed like if we were going to continue the farm it was time for me to step up and take my turn running it. I've thoroughly enjoyed doing it."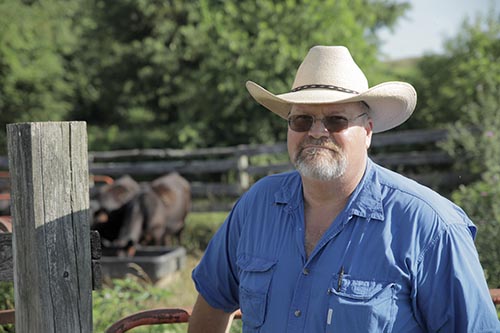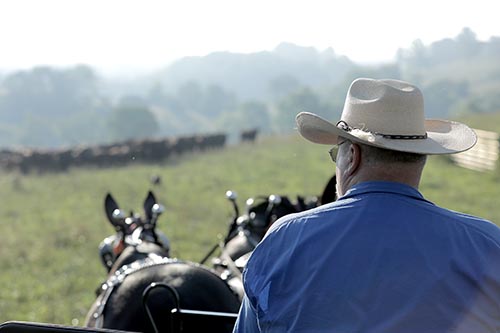 The Bull Business
McDonald Farms held their nineteenth annual Pick of the Pen bull sale in April of this year. Over their years in the seedstock business they have built a reputation for raising bulls that excel in calving ease, growth, milking ability, carcass quality, and docility. "We're trying to produce easy-calving, fast-growing, well-marbling, efficient cattle that will make use of the resources we have here," McDonald explains. "One of our bylines in our program is that we're trying to produce decathaloners and not sumo wrestlers. The cattle that are going to be in the herds of my customers — for decades at times — need to be athletes and need to do things well."
McDonald has been a leader in the Simmental breed for many years — he served as chairman of the ASA Board of Trustees in 2012 — and has seen the development of many of ASA's programs and partnerships, like International Genetic Solutions (IGS), genomic testing, and more. McDonald explains that the IGS partnership has helped propel the breed to its current status in the industry. "We need to be able to gauge ourselves not just within our breed, but how we compare to other breeds. Our customers can come to us when they have questions about how it will benefit them within their cow herd. Diversity is our strength."
Calving ease is at the top of many commercial producers' lists when they look for a herdsire. McDonald shares, "The biggest thing that has changed in our operation through IGS has been calving ease. We hardly have to touch a calf, and only if it is a breech presentation or something abnormal. With all of the cattle we calve throughout the year — around 225, with 50 to 60 being heifers — we may only touch one or two. That's been a real benefit to our program, and it's been a real benefit to our customers. We wouldn't have that without the multibreed evaluation and IGS to help us make those selections."
Data is a top priority at McDonald Farms. "Knowledge is power," McDonald says. "The more data we collect, the more we know about the cattle. The more we know about them, then we can make intelligent decisions on which cattle will add the benefits and new dimensions to our future herds through our cattle industry. We are participants in Total Herd Enrollment, and we also do the Carcass Merit Program. We are Performance Advocates, meaning we collect all the data we can on all the components and more. We also do DNA testing, like the Cow Herd DNA Roundup, and we also test our bulls so we have more information, more knowledge, and more power. That way our customers have more knowledge and more power."
Bulls only make the sale pen if McDonald is confident in the data behind them and their performance. "As a seedstock producer, we feel like our biggest responsibility is to have a sharp knife and know how to use it. When cattle do not measure up to remain a candidate for the seedstock operation, we retain ownership of them and send them to a feedlot and get that information so we know how our cattle perform. If our bottom end is performing at a certain level we feel like our top end is also performing above that. To ensure that, we also do ultrasound work on the cattle we do retain — our bulls and heifers. There again, more data, more information, more power," McDonald explains.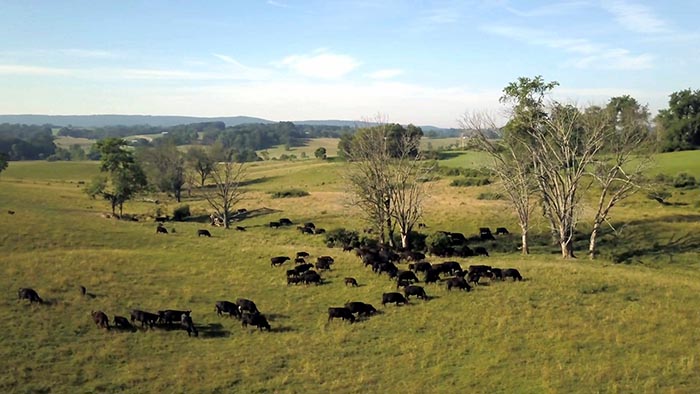 Looking to the Future
The McDonald family has seen many changes to the Blacksburg area over two-and-a-half centuries. Located in the southwest foothills of the Blue Ridge Mountains, the area is extremely productive. "It has an abundance of grass and grows an abundance of forage. It's well shaded and well watered, so it's almost ideal cattle country," McDonald shares. "We're always trying to raise cattle here that work well on grass."
Urban development is encroaching on much of this valuable grassland, which is a challenge McDonald knows his family will have to deal with in the future, in addition to other issues. "The challenges farmers in this area face are similar to the challenges that other farmers and ranchers face. Low commodity prices for a product, and the challenge of the weather. We also have the challenges of activists who think we aren't taking care of the environment like they think we should, or those who don't think we are taking care of the animals like they think we should. But farmers and ranchers like myself know that we have to take care of the environment, and take care of the animals, to make a living. And we need that to be sustainable, and having been in the business for 260 years I feel like my family have been good stewards of the environment and good stewards of the land and livestock."
Keeping a multi-generational operation in business is a weighty responsibility, and McDonald's view of the future is informed by his family's history. "Looking to the future, we want to be able to have the opportunity present if the next generation wants to continue farming and ranching. We know they'll have their challenges — they'll have to rise to those challenges — and we know there are opportunities in challenges, so we try to instill in them the value of agriculture and what we have here, and hope they will respect that and continue on with it in one fashion or another," he shares. "Over the years, my family had to adapt, just like we've had to to challenging times, changing weather, changing markets, and government programs. I think the constant is that they wanted to produce food and fiber for America and the world, and I feel like we've done a good job of that."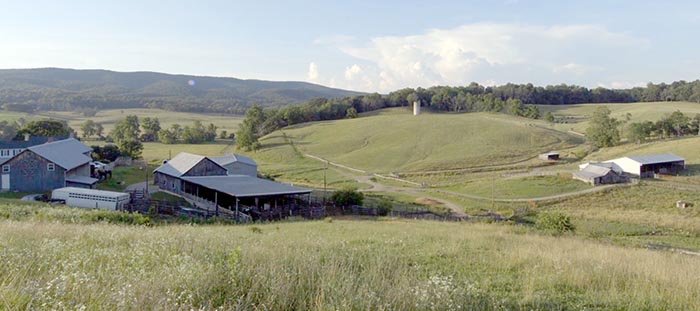 McDonald Farms was featured by Grant Company in the Stand Strong Simmental video series.
Details

Created: 21 May 2022
Hits: 602