Roth Farm and Ranch, located near Sterling, Kansas, has found success in both their commercial cow-calf operation and seedstock herd through SimGenetics. Siblings Cami and Colton Roth recently returned to the family operation, representing the next generation of young producers.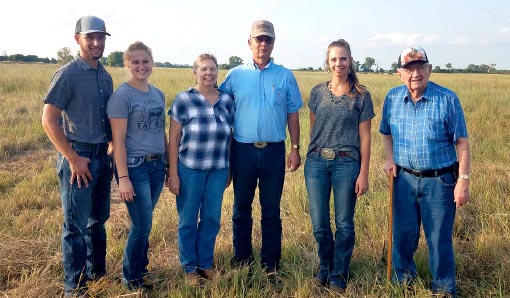 A Century in Agriculture
Norman Roth always knew that he wanted to remain on the family farm and ranch, located on the productive Kansas plains near Sterling. "I don't remember ever wanting to do anything else. I think you're born with it in your blood."
His family has a deep history in south-central Kansas. "We have some land that has been in the family since 1899, and have three tracts that have been in the family for over 100 years. We have both tracts of land where my mom and dad were born," Norman explains.
His first experience with Simmental was in the 1970s when his father Charles took a detour from the dairy business. Norman recalls, "I grew up on a dairy. I was a sophomore when my dad quit his dairy. In the early 70s my dad bred some of the lower-end Holstein cows to Simmental, and we realized the amount of beef it put on an animal and the growth. There's been a Simmental bull on the place since we got into the beef business."
He remembers Charles buying a group of Angus cows in 1977, one of which was a mousy-colored gray cow that stood out as being Simmental. This cow always weaned the biggest calf, introducing him to the importance of crossbreeding. "I've alway known that crossbreeding is important. We've had a few different crosses of cows and settled on Angus as a good female. Angus can't do it by themselves, but the Simmental bulls on Angus-based cows have worked well," he says.
Cindy Roth, Norman's wife, explains that their children, Cami and Colton, also grew up with a desire to stay on the family operation. "Cami and Colton have always loved the farm, since they were very little, and they always wanted to come back and be here. Cami came back after attending Kansas State University, and Colton came back after attending Hutchinson Community College. They are doing what they always said they wanted to do," she says.
She adds, "Farming is a very good place to raise kids because they have to learn responsibility. We gave them each a bred heifer when they were seven or eight years old, and they were responsible for the bills, and have since grown their herds. They both enjoyed everything about the farm, with the outdoors and everything that goes with it."
Cami and Colton both echo their parents' recollections of their early passion for agriculture. Cami says, "I don't remember not liking cattle. When I was a tiny kid I would be out in the pen sitting with the heifers and they would surround me and make friends with me. As I got older, I continued to enjoy it more. My parents gave me a bred heifer for Christmas when I was eight years old, and I was able to start my own herd at that point and have grown from there. Being around cattle is what I've alway loved. As I've gotten older, I've learned more about it and been able to take on more responsibility, not just as day labor but also in management and the work behind making it better, growing it for the future, improving the quality of the genetics, the quality of the animals, the quality of the grass that we have, and exploring what can I do to make this more profitable and better for the future."
Colton says, "I grew up on the farm and just always loved being outside and doing work. Before I was even in school I would be out with my dad looking at cows, or going out in the fields with him. If it got too late he would help convince my mom that I could stay out later if I could take a nap in the tractor. Through school I worked in the summers, and after school if I had time, and as I got older I just knew this is what I wanted to do. I graduated from Hutchinson with a farm and ranch degree, and came back to the farm full time after that."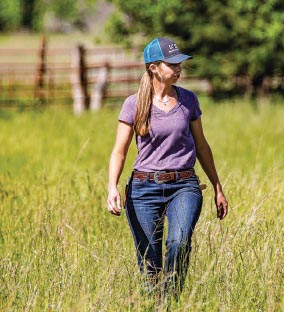 The Operation Today
Roth Farm and Ranch currently consists of a commercial cow-calf herd, a registered Simmental herd, and dryland farming. Each member of the family balances responsibilities, with each focusing on the things they enjoy.
Simmental is an important part of both the commercial herd and the registered seedstock business, and Cami's day-to-day tasks revolve around their cattle. She is focused on using data and management information to improve the cow herd and calf crop each year. The operation's goal is to breed cattle that are moderate-framed, deep-bodied, and docile. Certain terminal lines produce high-growth bulls, while others are focused on raising calving-ease heifer bulls. While the registered herd is small, emphasis is placed on producing bulls that will work in the commercial environment and yield the same quality as any of the larger breeders. Bulls are sold by private treaty both locally and out-of-state. Additionally, they sell a group of two-year-old commercial cow-calf pairs each year.
Overall, they focus on balancing EPD and phenotype. Cami explains, "EPD are such a great tool. You can pick out the prettiest animal in the herd but that doesn't mean that's the most productive or profitable animal. The EPD tells you a lot about the behind-the-scenes, under-the skin things that really matter. You want the balance of phenotype and genotype to make good animals. With Total Herd Enrollment (THE) you know you're getting a good solid data set and that your info isn't skewed just to the good animals. With the incorporation of genomics and DNA you get so much more information at an earlier age and you know it's more accurate. Those tools, data, and information are a game changer for improving animals and being more profitable."
Norman adds, "We pay attention to EPD and frame score. We always want a thicker animal but not a taller one. Our goal is to have fast growth and then shut it off."
SimGenetics have helped the Roth family improve their cow herd, raise the kind of bulls they want to keep themselves, and sell calves and bulls with confidence. Cindy says, "The growth from Simmental gives us pounds, which is how we get paid. That has worked really well with the Angus and Simmental cross."
Cami adds, "Angus is the most popular breed, but the research says there is so much benefit to the crossbred animal. Heterosis is the closest thing to a free lunch in this industry. We select for a more maternal Angus side and we bring the Simmental in to get pounds and quality. Simmental has improved so much and become such a solid breed. Crossbreeding really improves profitability and makes high-quality animals."
In addition to the benefits of heterosis, Cami points to cow size and docility as benefits of the breed. "If you look at a catalog you will see that Simmental are actually some of the most moderate-framed cows. A recent study was
done on cow size in the US cow herd and Simmental are not the biggest, or even at the top. There are a lot of traditional beliefs that Simmental are big cattle, and if you select for that they can be, but in the modern breed they
have done a really good job of selecting for moderate cattle." She adds, "I've really noticed good docility in Simmental cattle. Those animals want to be friends with you, work well with you."
The registered and commercial herds are managed with specific goals in mind. The registered cow herd calves in December and January, and the commercial herd mostly calves in the spring, with a small group calving each fall. The farming operation consists of wheat, corn, milo, alfalfa, and soybeans. Cattle graze crop residue, wheat pasture, and cover crops throughout the winter.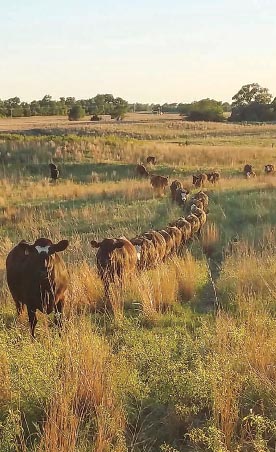 Dedicated to Data
The Roth family utilizes data to make management decisions and pays close attention to collecting this information throughout the year. Beyond standard measurements, Cami explains that DNA testing and genomics have become a part of their process. In addition to THE, they have participated in the Cow Herd DNA Roundup and Calf Crop Genomics programs. All of their registered cows and calves are DNA tested, and ASA's programs have been instrumental in testing a larger number of animals at a lower cost while improving the genetic evaluation for the benefit of all members.
Cami explains, "We take TSUs on all of the registered calves and send them in to ASA. We get gnomically enhanced EPD on every animal and we use that in our selection decisions. Our animals have to look nice, but they also have to be productive. We use that EPD information to choose which bulls and heifers we keep. It gives us more information on how we market our bulls as well."\
The Feeder Profit Calculator (FPC) is another tool the Roth family utilizes in marketing their feeder calves. Cami explains, "We sell all of our cattle at our local sale barn and that's a great relationship for us. We have built a reputation in the community and with the buyers at that sale. People know our cattle. We bring the FPC information to the sale every year. The sale barn posts it online beforehand so order buyers can see that information, and
we hand it out to these buyers as well. We don't want to sell just straight commodity cattle. We want everything to be value-added. We want people to know we've done a good job, we've done the genetic selection, and put the
management into them."
She adds, "Even if someone hasn't seen the FPC, I can hand them a piece of paper that shows them what I've done, that I've done the work, produce good cattle, and that I care about what I'm selling."
A Family Business
Building a business in agriculture that can sustain multiple generations is no small feat, and the Roth family is continuing to make careful decisions that will carry the business forward. Cami's passion for the beef industry is evident, and she is dedicated to improving the quality and profitability of the cow herd. "I just want to keep getting better with each year and every calf. There are a lot of good breeders across the country, but no one has created that perfect animal yet. We all have room for improvement, which is the exciting and challenging part. I would love to expand the cow herd to support our operation. I think we're on a great path and I just want to keep getting better," she says. Norman recognizes Cami and Colton's passion for farming and ranching. "They are both smart, they remember things, and they have a passion for what they do," he says. Cindy concludes, "I'm glad they found something they enjoy and are able to continue it. That's what we have worked for: to help them succeed and continue the family farm, and enjoy it for themselves, and possibly the next generation. Our Christian faith is the most important thing to our family, and we are thankful to make our living as stewards of God's creation."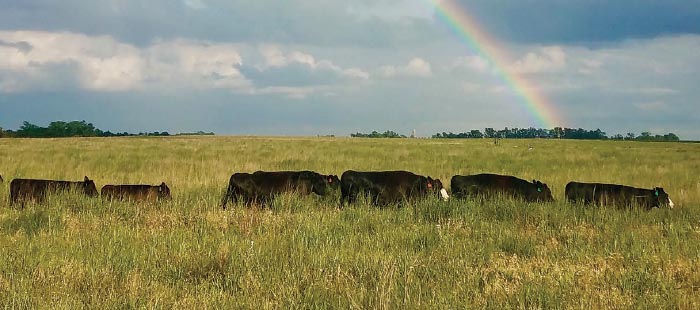 Details

Created: 03 August 2022
Hits: 836