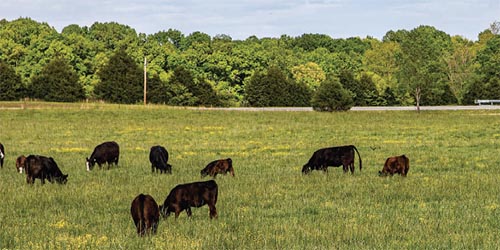 Martin Farms, Lyles, Tennessee, has been in the Simmental business since 1971. With a focus on providing outstanding customer service and raising cattle with soundness, good disposition, fertility, and carcass potential, the operation has stood the test of time. The Simmental breed first appeared at Martin Farms in 1971.
Neil Martin is the third generation on the farm, which is over 100 years old. His son, Chris, now represents the fourth generation to live and work on the Hickman County family operation. Neil's grandfather purchased the farm from his brother in 1912, adding a kitchen and bathroom to the original house. Neil's father continued to farm, partnering with his brother to buy the operation in 1943. Neil followed in these footsteps, buying his uncle's share of the farm in 1961, purchasing half-interest in the farming operation, livestock, hogs, equipment, country store, and house.
The Simmental breed first appeared at Martin Farms in 1971. Neil recalls AI'ing their commercial herd to a number of breeds, including Polled Hereford, Limousin, and Simmental. "From those matings, Simmental was way ahead of the others so we focused on it from then on," he said.
Chris was given his first Simmental heifer at eight years old, which sparked his interest in the cow herd. Today, the father–son team continues the family business, with a focus on raising top-quality SimGenetics seedstock.
S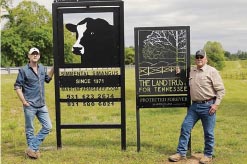 ticking With Simmental
Since the first Simmental female landed at Martin Farms in 1971 many things have changed, but the Martin family has continued to focus on Simmental genetics. Today, SimAngus is also part of their offering. Martin Farms holds an annual sale the last Saturday of September, sells seedstock by private treaty, and is also a part of the Tennessee Seedstock Connection. By offering balance and consistency they have built a strong customer base.
With 50 years of experience in the Simmental business under his belt, Neil has seen many changes and endured the highs and lows of the industry. Maintaining balance and not chasing extremes have helped Martin Farms ride out these changes. Chris said, "My dad believed in not going to the extremes in the cow herd, and in cow size. They kept birth weight down and paid attention to those traits all along. I think our customers know that our cattle will work, which helps with marketing. A lot of it is just the reputation of the breed in general, and our reputation, which we have built over the last 50 years."
Angus was added to the operation because of the complementary nature of the two breeds. Neil explained, "The thing that makes Simmental and Angus such complementary breeds to one another is the bone structure and udder quality of Simmental, as well as milk production. Simmental generally has more milk than Angus, but Angus has the carcass qualities that complement Simmental. Both breeds grow well and are accepted in the industry."
This focus on balance is present in all genetic decisions at Martin Farms. Chris explained, "When we're choosing sires we look for overall balance. Soundness is one of the most important things too — we want them to be sound structured and sound-moving. Growth performance is certainly something we look for, but we couple that with calving ease, maternal traits, and carcass traits. We try to balance the traits that are antagonistic to one another, making sure we don't go too far in one direction. It's really all about balance."
Many of their customers run commercial females. Simmental and SimAngus genetics offer the growth that many of these producers are looking for. "The Simmental breed, being Continental, offers more growth and performance, and you also get hybrid vigor with crossbreeding," Chris said. "I try to visit with our bull customers about their cow herd and calf crop so they get some performance and hybrid vigor."
Neil echoed these comments. "I think Simmental plays a big role in the commercial industry because if you have mixed commercial cows, which may be of various breeds, and put a Simmental or SimAngus bull with those cows you can expect more pounds at weaning time and you can expect to be at the top of the market when you go to feeder calf sales. Those cattle go to the feedlot and perform and grade well on the rail."
Chris explained that data collection backs this performance. "The Simmental breed was established on performance data. A big part of the success of the Association, and our operation, has been collecting the data and doing so in a non-biased way. We can compare real performance data, and take that information in to help our bull customers make the best decisions. If we don't have that information — if we don't collect birth, yearling, or weaning weights, or skew it because we favor one calf over another — that information is lost."
For the Future
Neil and Chris are both extremely proud of their family history, and are driven to continue caring for the land and livestock. Staying abreast of changes, across the industry and within the breed, has made Martin Farms successful. Chris plans to continue this. "I want us to be moving in the right direction. We have to stay focused on the kind of cattle we want to produce, and the reason we want to produce those cattle. Staying in the middle of the road is a big deal," he said.

"I think one thing that has kept us in the Simmental business for 50 years is our love for it," Neil shared. "I love the business. My father and my grandfathers on both sides of my family were farmers and cattle people who tended the soil. I have a love of the land and an appreciation for everything that it is. That's what sustains me."
Chis is proud to carry this tradition on. "Being the fourth generation here and knowing that my great-grandfather farmed this ground where I'm standing — he ran cows here and farmed corn — it makes me feel rooted. It makes me feel like I belong here and that's just a good feeling."

Details

Created: 31 October 2022
Hits: 366