Three men, all of whom served on the ASA Board of Trustees including terms as Board Chairman, are honored with ASA's highest award.
Gordon Hodges, Hamptonville, North Carolina | Science Advocate
Gordon Hodges is one of a small handful of ASA Trustees who served on the Board for a total of 13 years, first serving two three-year terms from 1990 to 1995, and more recently from 2014 to 2020. During his time on the Board, he has not only served as Board Chairman in 2019, he chaired the Breed Improvement Committee for a number of years and was a member of the steering committee of the 1992 impactful FOCUS 2000 long-range planning symposia that established the agenda for the future direction of the Association.
His affiliation with Simmental genetics dates back to 1970 and he joined the Association four years later. During his first term on the Board, he was heavily involved in the creation of the revolutionary Multi-Breed database and evaluation. In his second term, Hodges has been a champion of the scientific improvement of beef cattle, supporting crucial new projects in genetic evaluation, the switch to single-step genomic assessment and Cow Herd DNA Roundup, a staunch supporter of collecting carcass phenotypes, and the creation of the revolutionary and highly successful International Genetics Solutions (IGS).
As a sales manager in the early years of his career, he operated Virginia-Carolina Livestock Service and served as an officer in the North Carolina Simmental Association as well as the North Carolina Angus Association. For years, his cattle were marketed through Pineview Farms, his operation at Hamptonville. From his earliest days as a breeder, Hodges has worked relentlessly on behalf of SimGenetic cattle and the beef business in general, advocating for scientific improvement and crucial new projects.
For 14 years, he has served as Genetic and Marketing Manager for Gibbs Farms, a SimAngus™, and Simmental operation now numbering 800 cows near Ranburne, Alabama. He has been instrumental in guiding Gibbs Farms toward becoming one of the breed's largest, most successful operations. For the past five years, his personal 60-head SimAngus and Simmental herd has operated in a management partnership with Gibbs Farms.
A graduate of North Carolina State University, he holds a B.S. in Animal Science. It was at NCSU that he met his wife, Melissa, who has enjoyed her own 40-year career as a district loan supervisor for USDA's Farm Service Agency. They're the parents of a son, Spencer (Elizabeth), and a daughter, Juliana who is married to Christian Stackhouse. They also have a two-year-old granddaughter, Sloane.
---
Steve Reimer, Chamberlain, South Dakota | Steady Leadership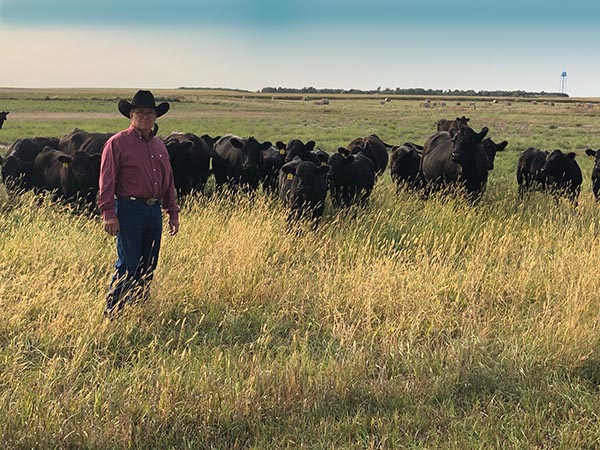 Voluntary service on behalf of his chosen breed has been a long-time hallmark of Steve Reimer. Not only did he spend six years on the ASA Board from 1991-1996, including a year as Board Chairman in 1995, but he also served 12 years on the South Dakota State Association over two separate six-year spans.
R&R Cattle Company, operated by Reimer and his father, Bill, is among the Simmental operations that date back to the early 1970s, holding membership number 3969. The multi-generation ranch was originally established around a set of Hereford cows, by Steve's great-grandfather.
A much-in-demand cattle judge, he has worked most of the major cattle shows in the US. As an exhibitor, R&R ranch dominated the champion pen of three bulls over the course of many years in the yards at the National Western Stock Show in Denver. The Black Hills Stock Show in Rapid City was also the scene of considerable success by R&R Cattle. When Steve's children were old enough to compete in 4-H and junior shows, the Brule County contingent was tough to beat and always led by the Reimers.
As a board member, Reimer served during turbulent times for the Association, yet through it all, especially during his tenure as Board Chairman, he met the challenge with integrity and courage when the Simmental membership was desperately seeking responsible leadership. His steady hand and unwavering resolve guided the ASA December '20/January '21 / Register 23 through rough waters. In mid-1996, he had significant influence in the hiring of Jerry Lipsey to serve as the Association's fifth chief executive officer.
His involvement in the innovative FOCUS 2000 conference in 1992 was a key turning point in bringing the commercial cattle industry and market share to the Simmental breed. Reimer's breeding philosophy revolves around placing selection pressure on both phenotype and genotype. With that foundation for his thinking, he was instrumental in helping to create the Progress Thorough Performance (PTP) show format still being used 25 years later by the ASA.
The Reimer operation also includes significant cash crops from corn to soybeans to wheat and forage oats in a crop rotation with turnips, radishes, and lentils, using an innovative no-till and cover crop mix. Reimer and his wife, Elaine, are the parents of two daughters, a son, and five grandchildren.
---
Fred Schuetze, Granbury, Texas | World Influencer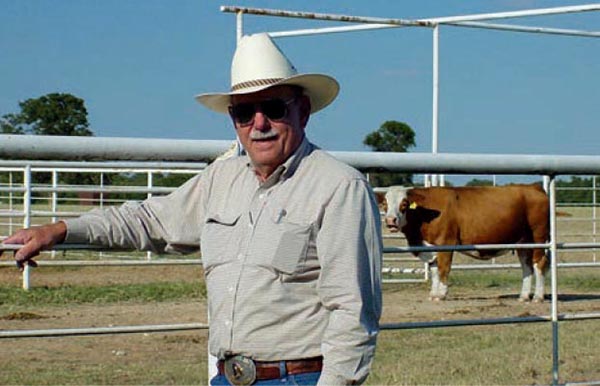 Fred Schuetze has been a beef industry leader at all levels – local, state, national and international. His presence and influence on SimGenetics have spanned multiple decades as he traveled the globe introducing and promoting his favorite cattle breed. His hands-on approach and commitment to the industry identify him as a standout in the eyes of all who have crossed his path.
Among a rare few who have served a total of 13 years on the ASA Board (2000-2006 and 2015-2020), he has served as board chair, treasurer, publication board chair, Simbrah committee chair, foundation chair, and nominating committee chair among many.
Schuetze grew up in the Texas Hill Country on a family farm that produced beef cattle, sheep, goats, and chickens. After graduating from Comfort High School, he received a B.S. degree from Southwest Texas State University and attended Texas A&M where he earned his Master's degree. He then went to work for the Texas Agricultural Extension Service, serving for nearly a decade as a county agent.
Between 1979 and 1990, he owned and operated a consulting company wherein he designed breeding programs for operations throughout Mexico, Central America, and the US. After working with Les Alberthal, whom he knew growing up in Comfort, they collaborated to develop the famed Buzzard Hollow Ranch at Granbury. They scoured the globe to find the best fullblood Simmental and Simbrah genetics, purchasing embryos and live cattle in Canada, Europe, South Africa, and in the US. He's been a long-time member of the TSSA, including a term as president, and a founding father of the American Simmental Fleckvieh Federation, serving as president for 15 consecutive years. After being appointed to serve as ASA's official representative to the biannual World Simmental Fleckvieh Federation Congress, he traveled the world-over attending Congresses in South Africa, Brazil, Ireland, Canada, the United Kingdom, Australia, Germany, Columbia, and Poland. In 2020, he completed a four-year obligation as WSFF President.
Presently the managing partner of SOT Simmentals, Schuetze and his wife, Judy, are the parents of two children: Fred, Jr. ("Bud") and JoAnna Keel, plus three grandchildren.
Details

Created: 24 January 2021
Hits: 558