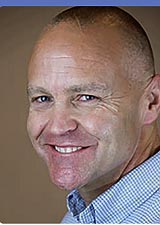 Cow-calf producers who manage costs are far better positioned to navigate uncertainty
My previous column ended with the following observation, "…the new year represents an opportune time to assess the how-and-why of decision making within the operation and, if necessary, hit the reset button." For every operation, the most important place to start in that process is on the cost side of the business.
It's a critical course-of-action that's best exemplified with some review of enterprise analyses from the Kansas Farm Management Association (KFMA). The program is one of the largest and long-running programs in the country with dependable and consistent documentation from year-to-year. It is also especially useful to the beef industry, being comprised of mostly mid-size operations.
For all types of farming enterprises, KFMA categorizes operations into thirds (top, middle, and bottom, respectively). That ultimately leads to a useful breakdown of operational performance across each of the groups.
Conventional wisdom generally links revenue to profit. That's not surprising. Marketing is a big, and easily measurable event for most commercial operations; instinctively we believe a bigger check automatically equates to being more profitable. While marketing is important to business success, it's not really a profitability difference-maker.
For example, during the past decade, KFMA's top-profit group marketed calves for $3.50/cwt more and were 24 pounds heavier versus the bottom group. The average revenue difference per calf over 10 years between the top and bottom group is only $60/head.
The real difference comes on the cost side. The broader story being operations in the top tier arrive there by focusing more on the everyday work of reducing costs. Between 2010 and 2019 the average cost per cow was $890 vs. $1,225 for the top and bottom profit groups, respectively. In other words, during the past decade, there is a $335 per cow per year difference between the two groups.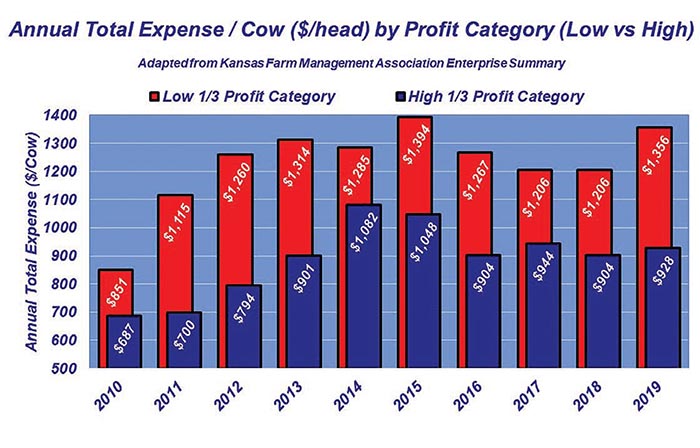 What's more, more than half of that difference is explained by feed costs. The most profitable operations saved nearly $175/head on the feed side versus the bottom-third of operations. Reinforcing the importance of cost management, note those savings equate to nearly three times the difference in marketing revenue ($60 per head) mentioned above.
Most important in all this are the long-run, total-return ramifications. During the past 10 years, the top third of operations averaged a positive return to management of around $60 per cow. Conversely, the bottom tier generated a negative return of roughly $540 per cow. A whopping $600 per cow difference!
Now consider the average herd size for the bottom-third operations is around 100 cows — that means a negative return of $54,000 annually — or a loss of nearly $540,000 for the decade. Meanwhile, given an equal number of cows, high-profit operations generate a small, albeit positive, return of $60,000. Bottom line, those operations have a $600,000 return-to-management advantage versus the low-profit peers.
KFMA summarizes the principles this way: "High-profit operations had a cost advantage in every cost category compared to the low-profit operations." Most important, KFMA explains that "…while both production (weight) and price do impact profit, they are much less important in explaining differences between producers than costs."
One final observation when it comes to cost management. Last year at this time we witnessed the beginning of COVID-19's market disruption. With that in mind, one of my favorite quotes comes from Stanford University Professor Scott Sagan: "Things that have never happened before happen all the time." This discussion becomes especially important amidst the ever-present risk of some other market turbulence going forward. To that end, cost management is the most important strategic component to buffer against those unexpected events — and help ensure positive returns over the long run.
About the Author: Nevil Speer is based in Bowling Green, KY. and serves as director of industry relations for Where Food Comes From (WFCF). The views and opinions expressed herein do not necessarily reflect those of WFCF or its shareholders. He can be reached at This email address is being protected from spambots. You need JavaScript enabled to view it..


Details

Created: 26 February 2021
Hits: 548