A lot has changed at the American Simmental Association in the last five years. Five years ago, we moved into our new headquarters. We were gearing up for our 50th anniversary and preparing to write the history book. We were launching the International Genetic Solutions (IGS) Feeder Profit Calculator, and anticipating this new way to encompass management and genetics to estimate the relative value of a set of feeder calves. The genetic evaluation used the previous Cornell software and older models, including a two-step blending process for genomic information, and three times a year a fresh evaluation was released. Now we are settled in the headquarters, the IGS FPC has years of growth and success under its belt, and we are cranking out weekly genetic evaluations using improved methods: single-step genomics and the BOLT software system.
The demographics of genotyped cattle looked really different five years ago. The vast majority of genotypes were on top-end bulls creating: 1) genomic knowledge that had some bias with mainly high-performance animals represented; 2) a very limited number of females genotyped, making maternal traits harder to predict with genomics; and 3) a void of terminal cattle with genotypes.
At the end of 2017, the ASA Board of Trustees passed a program that was the first of its kind. That program was the Cow Herd DNA Roundup (CHR). Enticing members to genotype their entire cow herd for a greatly reduced rate, this program skyrocketed the number of females genotyped in the genetic evaluation. Further, genotyping the entire cow herd reduced the bias caused by only testing the elite genetics. Additionally, members who sent complete records for mature weight with either a body condition score or a hip height were given another $5.00 back per animal.
The CHR was and still is wildly successful for genetic evaluation. Looking at the male to female rates of genotyping alone, we now have over 57,000 females genotyped, compared to 49,000 males entering the evaluation for the ASA. The additional mature weights have spearheaded the development of an improved mature weight EPD given the increase in records. This has also paved the way to investigate maternal genomic effects from direct genomic components for traits, such as calving ease and weaning weight, that wouldn't have been possible without a large set of female genotypes.
The CHR also brings great benefit to members by simply reducing the price for genomically enhanced EPD. Having parentage markers on the entire cow herd and parent confirmation of all those animals is a tremendous benefit alone. Plus, adding genomic information to the cow herd EPD is like adding a lifetime of calves to each cow's evaluation, making the future selection and mating decisions much more precise.
By the fall of 2018, the board and staff launched another program to target more carcass records and genomic tests on terminal calves. This program eventually named the Carcass Expansion Project, has increased our annual carcass records by fivefold, and added thousands of carcass records on genotyped cattle — which was close to zero previously. Having this data in the evaluation has already increased our ability to predict carcass traits with a DNA test for all of our members.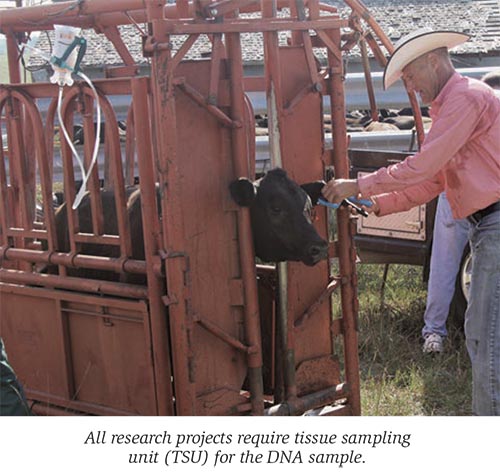 Last summer, the board passed another innovative program called Calf Crop Genomics to offer research price points for members who test their entire calf crop. This program was built to reward members who submit genomics on the entire calf crop to reduce selection bias even further and provide more accurate EPD to members prior to their selection decisions. Again, rebates are offered for phenotypes on the entire calf crop at birth, weaning, and yearling, with additional incentives for carcass records. While this program is just turning one year old, the membership has already bolstered the genomics in the evaluation by over 13,000 samples in a year
I am amazed by the cumulative results of these three programs. Through these programs, we added over 70,000 genotypes to the evaluation in the last four years. We now have over 90,000 mature weight records on 60,000 unique cows and 6,000 genotyped terminal calves. We have been so fortunate to partner with Neogen Genomics on these research projects. It would not be possible to offer the research price points without their generous reduction in the DNA research costs. Since Neogen became an IGS partner, they have extended genomic research price points to all the IGS partner breed organizations. The IGS evaluation now has multiple breed organizations launching their own genomic research programs. Already these programs have brought more knowledge to our members on their cattle. We have already seen improvements to the amount and quality of information going into the genetic predictions. The promise of what this data can do to further improve our ability to make future genetic predictions is thrilling. This took significant commitment from our members, our staff, our partner Neogen Genomics, and our board. We don't take that commitment for granted. We are excited to see what comes in the next five years.
Details

Created: 17 August 2021
Hits: 572