Have you wondered whether Total Herd Enrollment (THE) is right for you? Who should participate? When do you enroll? How do you enroll? Will you be notified? This article provides answers to all these questions and more.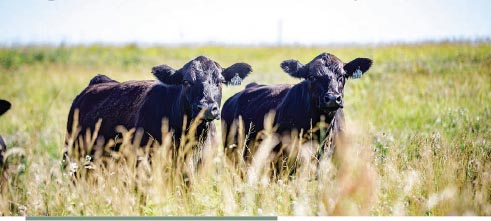 Why Total Herd Enrollment?
■ It is a dam productivity program, which allows us to track the influence the dam is having on her progeny. Collecting data on sires, because of the number of progeny they will have, comes quite easily, but dams are a different challenge. At best, a dam might have 2–8 calves in a lifetime, with a few exceptions. So collectively, by thousands of breeders submitting data on their dams every year, we can get an informative picture of dams' influence on their progeny.
■ We can then calculate maternal trait EPD more accurately.
■ It allows the breeder to make better selection decisions when looking at a dam's EPD and her calving intervals.
■ It is an inventory program, where one can manage the cows in their herd.
■ The progeny have a true and complete contemporary group in order to ratio and rank against each other. It allows the cream of the crop to really shine when all contemporaries are reported.
■ It allows the breeder's herd to run through the largest genetic evaluation.
■ When breeders are running multiple breeds, it allows all of the breeds to be compared on the same EPD base, instead of having to recalculate EPD per breed to try and compare.
■ Access to a free software to report data 24/7, and access to a variety of standard or customized reports to analyze data.
Who is THE For?
THE is for herds that collect individual data on the entire calf crop, maintain accurate female records, and use at least two sires in the birth contemporary group, whether commercial, registered, or herds of other breeds. Since deadlines are a part of THE, the herd must also be able report data in a timely manner.
When does THE enrollment open?
Spring Calving is Jan. 1–June 20
Spring Early Enrollment opens Oct. 15–Dec. 15 each year Late Spring Enrollment is Dec. 16–Feb. 15, plus a $1.00 per cow late fee
Fall Calving is July 1–Dec. 31
Fall Early Enrollment opens April 15–June 15 each year Late Fall Enrollment is June 16–August 15, plus a $1.00 per cow late fee
How does one enroll in THE? You can complete your enrollment online through Herdbook by going to Data Entry→Online Inventory, and select Update Cow Inventory Online.
1. You can download an Excel spreadsheet on Herdbook by going to Data Entry→Online→Inventory, and select Download, complete the enrollment with the spreadsheet, and then upload the completed data into a job online.
2. Or, a paper application can be requested by emailing This email address is being protected from spambots. You need JavaScript enabled to view it. or calling the THE department.
How will you know when THE enrollment opens?
You will have a notice on your My Account page under THE Status.
■ There will be a tear-out sheet for THE in each November issue of the Register for spring herds and in each May issue of the Register for fall herds.
■ eNews will have several announcements when THE opens and throughout the enrollment season.
■ If you have an email on account, email notices will be sent throughout the two months of early enrollment.
■ If you are late enrolled, you receive a packet in the mail with a bright pink sticker that says "return by February 15, 2022" (for spring calving) or "return by August 15, 2022" (for fall calving).
Tips For Reporting Calf Data
■ From the time calving begins to June 30, you can start a job online and enter in the calves weekly as they are being born. Or, you can download your active dams into a spreadsheet, enter the calf data offline, and when calving is done upload it to Herdbook.
■ If you had a calf born in the last two weeks of December but it needs to be in the same contemporary group with the next year's spring calves, enter into the "Calf Year" column the January year. Example: if the calf is born on December 23, 2021, enter that as its date of birth and if you want it to contemporary with the 2022 spring born calves, enter 2022 in the "Calf Year" column. By doing this, it will apply the 2022 THE enrollment record to that calf.
■ Use appropriate calf removal codes for heifers if they are not retained in the herd. They will not preload on your inventory in two years if the codes are entered before they are 18 months of age.
■ If possible, collect the basic required data on deceased calves carried full-term. It is better to give the dam credit for calving than to use a productivity code. Then, give the deceased calf an appropriate calf removal code.
■ If you are a spring calving herd, you have until February 15 of the next year to submit calving data before noncompliance takes effect.
■ Every dam enrolled must have a calf reported. If she did not calve, then use productivity codes that best describe why she did not calve in the "Productivity" column along with the productivity year.
Spring Herds THE Year in a Nutshell:
October 15–December 15, 2021 — Early enrollment is open. It is critical that you check your inventory.
■ Save money by updating your inventory. Don't pay for dams that are gone from the herd. Auto-enrollment doesn't know if a dam died, was struck by lightning, or sold without papers, so don't rely on auto-enrollment to be accurate.
■ Make sure all purchased animals are listed, whether registered or commercial.
■ Don't assume because you transferred the dam she will be gone from your inventory; you may have to cull her.
■ Make sure all cows and first-time heifers under associated junior accounts are added to the inventory if the whole herd runs together.
■ When doing Spring enrollment, if you use an enrollment code 2 or 3, this will move the cow to fall. That is okay if you have a fall herd or are starting a fall-calving herd.
■ If you purchase cows after enrollment time, email This email address is being protected from spambots. You need JavaScript enabled to view it. and we will add them for you.
■ If you are getting email notices that your THE is not completed, don't ignore it. If a job is not submitted, your THE is not complete and you risk being late enrolled.
First week of January: All accounts that did not complete early enrollment will be auto-enrolled into Option A, no matter what the previous year's enrollment was.
December 16–February 15: Auto-enrolled herds or late enrolled herds can complete their enrollment and get credit back for changing options and cows that are culled with the exception of a $1.00 per active dam late enrollment fee.
Early enrolled herds: Did you know that during this time you can cull cows that leave the herd and get credit back? January 1–June 30: Calving season underway!
July–August: Collecting weaning data. November–January: Collecting yearling data; give all of the heifers that are not retained in the herd an appropriate calf removal code.

Details

Created: 19 November 2021
Hits: 689