Feeding for the Future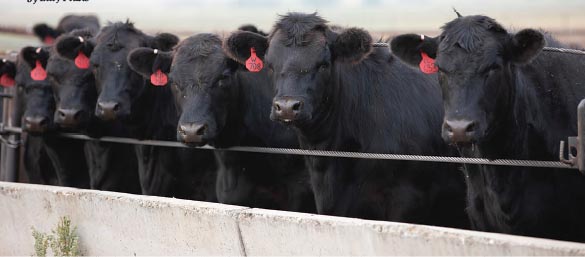 The Program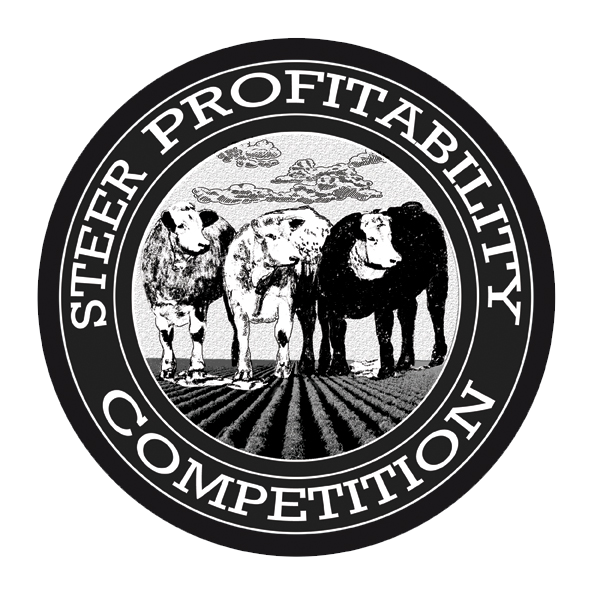 The AJSA Steer Profitability Competition (SPC) gives youth in the beef industry real-world exposure to cattle feeding. This kind of education is rare and valuable for youth, and the program is focused on supporting the next generation of beef producers. Youth can enter steers of any breed, which are fed at the University of Missouri Beef Research and Teaching Farm. Using a GrowSafe system and data collection, each steer's progress is tracked and shared with the participant. Steers are harvested in the spring, and the combined data is used to rank the profitability and performance of the group.
The 2022 class of SPC participants started in October of 2021, and the coming year is set to be filled with learning opportunities. Bailey Abell coordinates the SPC program, and says that inclusivity is a hallmark of the program. "The SPC has a notable factor built into the contest that makes it different from many other livestock activities: you do not have to have any special space, skills, or experience to participate," Abell explains. "A young person who has interest in the industry can purchase an animal from a breeder, get that animal to the drop-off point, and they can be participating in a very real way and learning about producing beef, despite where they live or how much land they have."
It can be difficult for youth to get this real-world experience, and removing barriers to this education is at the center of the SPC program. Abell says that while many youth are falling away from in-depth, hands-on educational experiences, the youth in SPC are gaining a distinct advantage. "In a world that is getting faster, more knowledgeable, and higher-tech every day, young people are also forced to have meaningful learning experiences less and less," Abell says. "My own generation doesn't feel the need to do or know things as much because they can have the answer to anything they want right in their pocket. I believe young people who actually take on real-world experiences are going to have a distinct advantage in knowledge and wisdom in the long run."
SPC participants come from a range of backgrounds and are varying ages, so making the educational portion accessible for everyone is important. Abell says that this coming year will feature exciting educational opportunities. "We have some fun things in the pipeline this year! We've been working on some different topics that I think the kids are going to find both relatable and relevant for some of the industry shifts they are going to continue to see in their near future. I don't want to give away too much, but we are hoping to dive into some trends in both consumers and producers. Additionally, there is one specific activity that, if everything allows this year, we will be pushing some juniors outside their comfort zone to help make the next generation of beef promoters."
The Experience
The SPC program is designed to get youth involved, and its importance is evident when talking to past and current participants. The Redalen, Ewing, and Blume families have all participated for a number of years, and graciously offered their feedback on the program.
Dr. Abbie Redalen says that her daughter, Audrey, has always been interested in the beef industry. The family raises Simmental seedstock and even has a small feedyard, so it was important for Audrey to learn more about the feeding side of the cattle business. Redalen shares, "Audrey was very excited to participate in the SPC program and see what it was all about. There was a tremendous amount of learning that occurred through the SPC webinars, with topics covering nutrition, health, genetics, feedlot economics, and carcass basics given by industry experts."
Audrey has participated in the SPC since its inception, and Redalen says she has seen the program improve over those years. "As a parent, I appreciate how the SPC program has evolved to a point where all juniors, regardless of age or knowledge base, can gain key learnings and participate fully in a variety of activities to solidify the information gleaned in the webinars," she explains.
"This is a tremendous opportunity for youth to have exposure to cattle feeding business and ultimately the product that reaches the end consumer. Regardless of the focus in your operation, we are ultimately beef producers and this program gives youth participants exposure to the side of the business that gets our product to the plate," Redalen says.
The Ewing family raises fullblood and Fleckvieh Simmental cattle. Chuck Ewing explains that his daughters' busy school and club schedules makes participation in 4-H or FFA difficult, but the structure of the SPC has fit in well. Grace and Faith have entered both fullblood and Angus-cross steers they raised, and have learned a lot from the educational webinars. Ewing shares, "I have personally enjoyed watching the webinars with the girls. The majority of the information is presented on multiple levels, where it's beneficial for all those viewing."
The Ewings are conveniently located close to the University of Missouri, so they are also able to see firsthand how their steers are progressing. Grace shares, "Participating in the SPC has given me a better understanding of how the feedlot aspect of the cattle industry works. As someone who raises fullblood Fleckvieh in a cow-calf operation, it provided valuable insight into another side of the cattle industry I otherwise would not have been able to experience."
The inclusivity of the SPC program has also been beneficial to Faith, whose learning disability is a unique challenge. Ewing shares, "For my youngest daughter, due to her challenges, the SPC works well for her because she doesn't have to bring an animal to the regional or national competitions in order to participate." Faith says, "My dad and I work on the assignments together, and make it fun!"
The Blume family raises Simmental, Hereford, and crossbred cattle. Michael Blume says his daughter, Jayna, became involved to gain new experience. Blume shares, "We wanted to give our daughter the opportunity to learn about the feedlot industry and see how well our cattle did in the competition."
This is Jayna's second year in the program, and with plans to remain involved in the beef industry in the future, Blume says the educational portion of the contest has been valuable. "It is important for Jayna to learn all aspects of the beef industry. She wants to continue raising cattle in the future and needs to learn that breeding and feeding techniques will help produce quality meat," Blume says.
Jayna says that she has enjoyed the assignments, and that one of her favorite activities was extracting DNA from a strawberry. She has also used this knowledge outside the SPC. Jayna says, "I did a 4-H project on low stress management, and also used some of the things I learned for a speech."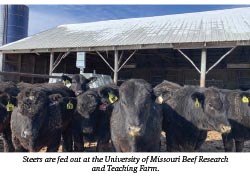 The Future
Travis Wulf, Clear Springs Cattle Company, has been an active advocate for the SPC program. He explains that he has chosen to advocate for the program because he believes that these future industry leaders need to understand the entire supply chain. Wulf says, "Long before my grandfather Leonard was a cattle breeder, he was a cattle feeder and understood the importance of finding the cattle that performed well at every stage of the beef production chain. The SPC program is hands-down the most comprehensive youth contest to come along in some time, helping its participants not only understand the differences in their cattle, but also why they are different and how that equates to profitability."
Wulf explains that the SPC can benefit youth, whether they eventually become involved in feeding cattle or not. "For the juniors who participate in the SPC, the knowledge they gain is sure to help them no matter which sector of the beef industry they end up in because of the intertwined nature of our industry. They may not end up being directly involved in the feeding segment, but assuredly will be affected by it in some way, shape, or form."
The SPC continues to evolve, and Wulf says he hopes to see it continue to grow. "I truly hope this wonderful program can continue to expand and encompass more juniors year after year. Not only is the education of beef genetics and management great, but it also gives the kids a chance to learn financial skills, turn a profit on the head they feed, and above all, participate in a friendly competition among their peers!"
To learn more about the SPC click here.
Details

Created: 16 December 2021
Hits: 560