Adapted from authors Rodolfo J. Cantet, Jack C.M. Dekkers, Daniel Gianola, and Miguel Pérez-Enciso, in the journal Genetics Selection Evolution. Introduction by Dr. Wade Shafer |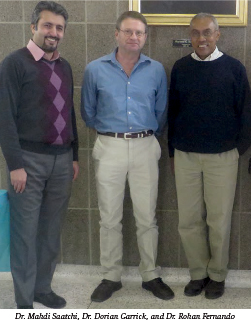 How Did Dr. Fernando's Work Influence ASA?
by Dr. Wade Shafer
Though his work has had a major impact on the genetic improvement of livestock around the world, and on ASA members' herds specifically, few in our sphere will have any knowledge of the recent retirement of one of the most influential quantitative geneticists of our time: Dr. Rohan Fernando. I suspect that's just fine with Rohan — who, at the same time, is one of the most brilliant and humble people I have ever known.
How has he affected ASA members? Fernando's seminal work on leveraging DNA in genetic prediction forms the backbone of the IGS evaluation. Besides providing the theoretical architecture for our evaluation, which was a "quantum leap" advancement in the genetic prediction world, he graciously participated in several meetings that framed the evolution of the IGS system. To recap those meetings, when Rohan spoke, which wasn't often, we all listened!
We will be forever grateful for Fernando's contribution to IGS. Though he is retiring from his full-time professorship at Iowa State, he plans to stay active scientifically. We certainly wish him well in his future endeavors…and hope that they will intersect with IGS endeavors from time to time.
From the Journal Genetics Selection Evolution
Dr. Fernando was born in Sri Lanka in a family with strong connections to agriculture, so he developed an interest in livestock. He attended Aquinas School in Colombo, a Catholic junior college, and then came to the United States, where he completed a bachelor of science in animal science at California State University–Fresno. He carried out postgraduate study at the University of Illinois at Urbana-Champaign, where he obtained masters and PhD degrees, with thesis work focusing on methodology in populations undergoing assortative mating and selection. He then continued his career as a tenured faculty member, first at the University of Illinois at Urbana-Champaign (1985–1996) and as professor at Iowa State University thereafter.
He has been a productive scholar, with close to 15,000 citations and an h-index [a metric for evaluating the cumulative impact of an author's scholarly output and performance] of 57 in Google Scholar; excellent marks in a small field. His six most-cited papers include his seminal work on best linear unbiased prediction for marker assisted selection; his pioneering of Bayesian methods in animal breeding (at a time when Bayesianism was considered heretical); clarification of the role of markers in Bayesian regression models, including highlighting the importance of genetic similarity in prediction; and development of new methods for Bayesian variable selection. He also was a coauthor of the first paper pointing out the potential contribution of kernel methods to genomeenabled prediction.
nabled prediction. In addition to many contributions in the areas mentioned above, Fernando's deep insights into difficult problems, coupled with his ability to arrive at elegant and convincing solutions, made him an ideal person to collaborate with, and to engage in discussion. During his career, he has assisted hundreds of students and collaborators, in a passionate and firm, albeit generous, quiet and humble, style. Those of us who have had the privilege of counting Rohan as a friend know that behind his sparse rhetoric, there is a person with very high ethical and spiritual dimensions. He has been extremely helpful to many, representing a sort of "Mother Teresa of Calcuttaequivalent" of animal breeding; always giving, seldom requesting.
Since he has been, in some sense, a "best seller" in our field, below is an abridged list of excerpts from statements made by persons whose life was influenced in one way or another by him. [The full article can be found at gsejournal.biomedcentral.com (volume 54, article 9).]
Daniel Gianola — University of Wisconsin
My first two guinea pigs (also known as graduate students) at the University of Illinois at Urbana-Champaign (1978) were Wilson Nelson Mulenga Mwenya and Rohan Luigi Fernando. Both were excellent but different from each other in interests. Mwenya became a dean at the University of Zambia, whereas Rohan chose scholarship. At that time, I had developed a "monster course" that covered essentially everything that was not being taught elsewhere, and with an important coverage of BLUP (best linear unbiased prediction), a very hot, mandatory, and mystical topic at that time. Most of us could follow Henderson's algebra, but without understanding the implications. Mwenya and Rohan took the course and both did well. A problem, however, was that Rohan would not ask questions in class (typical of him) but would later show up in my office with questions for which I did not have a readily available answer. To get rid of this "nuisance parameter," I would give him arcane books on mathematics and linear algebra and command: "read this and you will understand." That did not work either, because he would return with questions about the books, so my problems got worse instead of better! Eventually, we helped each other understand important foundational issues from our field, some of which we continue to discuss. Apart from the mentor–mentee relationship, we later became colleagues and friends.
At that time, graduate students in animal breeding were beginning to take classes in mathematical statistics, and we gradually evolved from writing linear models into thinking in terms of joint, conditional, and marginal distributions. When Sotan Im and Jean-Louis Foulley (INRA, France) came to Illinois for a sabbatical, both being powerful mathematicians, our mental entropy about statistical theory and its relationship to quantitative genetics gradually began to dissipate. I believe their contribution was crucial in Rohan's development as a quantitative scientist, and we finally understood the limitations and shortcomings of Henderson's paper on BLUP under selection. It took us a few years of discussion, even with Henderson, who was a recurrent visiting professor at the University of Illinois, to get to that point.
I have known Rohan for more than four decades and he has been an extremely important influence in my life as a scholar. I could narrate many anecdotes, but space is limited. However, I would like to end the statement with the following: "If you were a coach, he should be in your starting five. If you do not love the man, go and see a shrink: you may be ill."
Katherine Hanford and Stephen Kachman — University of Nebraska–Lincoln
Rohan has influenced our lives in many ways, both personally and professionally. We have been friends and colleagues of Rohan since we met as graduate students in Daniel Gianola's lab at the University of Illinois at Urbana-Champaign in 1981, and, over the past four decades, Steve and Rohan have continued their collaboration. We have numerous photos of Steve and Rohan sharing a laptop or writing on a whiteboard or a sheet of paper, working on problems ranging from how to implement a statistical method in software or deciphering a bit of statistical theory, to incorporating genomic information into genetic evaluations, and the pros and cons of Rohan's latest favorite programming language. Whether spending time at Iowa State University, serving together on various committees and projects, or getting together at meetings, we always looked forward to the opportunity to spend time with Rohan, where Steve could be assured to leave with a new idea to pursue and Kathy would be caught up on Rohan's kids.
Dorian Garrick — Massey University, New Zealand
Rohan Fernando has always been quiet and unassuming, so his presence could easily go unnoticed. I first met Rohan Fernando in the mid-1980s and quickly learned that his publications and his presentations were carefully thought out, from first principles, and always very thorough. I immediately had a lot of respect for his work, particularly his 1989 paper "Marker assisted selection using BLUP" when it first came out.
I didn't really get to know Rohan well until I joined him at Iowa State University in 2007 and began working closely with him. His first big contribution to my academic career was in the understanding of Bayesian approaches to some animal breeding and related problems, particularly BayesA and BayesB.
Soon after my arrival at Iowa State University, I received my first 50k bovine genotype data on some 1,000 animals and I started working with Rohan on how we might make inference. Rohan convinced me of the merit of BayesA and BayesB and helped me understand some of the intricacies of those algorithms. The light bulb finally turned on when Rohan again patiently demonstrated to me the issues of Gibbs sampling. Once I finally understood more about BayesA and BayesB, we could start thinking about what we might do to further improve the algorithms and to expand the so-called Bayesian alphabet.
Rohan moved his office next to mine when Dr. Richard Willham retired, so we would not have to pace the length of the corridor between his old office and mine. A typical scenario would involve me thinking up a harebrained idea for improvement of an approach and suggesting it to Rohan. Sometimes he would immediately and politely point out its inadequacies. On a few occasions, when it warranted further consideration, he would go back to his pen and paper, or his whiteboard, and work the issue through. Then, often in the middle of the night, Rohan would start playing with small examples.
Reminiscent of my memories of Dick Quaas, most of the activities Rohan has worked on have led to useful extensions of known concepts and much improved understanding. Those that appear in refereed journals represent only the tip of the iceberg of such endeavors. Rohan almost always reverts to the most basic principles when considering a problem. He never takes some of the results others claim for granted. When Rohan referees a novel paper, it means rederiving all the findings in the paper.
Rohan has made a remarkable contribution to the lives of many students, postdoctoral fellows, and young and old scientists. I consider myself very fortunate to have crossed paths with him, and to have been able to work closely with him on a number of problems over the last 20 years.
Jack C. M. Dekkers — Iowa State University
One of the most brilliant yet modest scientists with whom I have ever had the chance to work, along with one of the kindest and most patient persons that I have ever met. That is how I would describe Rohan. I got to know Rohan after I started as a faculty member at Iowa State University in 1997. I had read some of his papers but, frankly, had trouble understanding them in full, mostly because I tend to approach problems from a more conceptual manner, in contrast to the mathematical and statistical rigor that Rohan employs. Yet, as we started to discuss problems in animal breeding, we were able to find much common ground, where our approaches complemented each other. Over two decades of fruitful and enjoyable collaborations followed, resulting in 56 coauthored papers, and still going strong.
I have always admired Rohan's rigorous and meticulous attention to detail when it comes to statistical and quantitative genetics, always striving to get to the bottom of the problem and not taking anything for granted. I remember us visiting for hours in the late 1990s with Wolfgang Kliemann, who was a mathematics professor at Iowa State University. Wolfgang explained the mathematical basis of the Gibbs sampler and the Metropolis–Hastings sampler to us. And not until Rohan had fully convinced himself of their validity, was he willing to let Markov chain Monte Carlo replace, or rather, complement the likelihood-based philosophy that was ingrained into his approach to statistical genetics. Since that time, he has never looked back, and made, and continues to make, tremendous and novel contributions to the field of Bayesian statistics applied to animal breeding and quantitative genetics. Even now, upon his retirement, he is embarking on the power of machine learning, getting to the bottom of it, convincing himself that it works, connecting it to his knowledge of likelihood and Bayesian methods, and employing it to solve problems in our field. \
In addition to being a superb scientist, Rohan has also been a great educator and mentor. The students, postdocs, and visiting scientists who have had the chance to work with him can attest to the close working relationship that he developed with each of them. Often, prior to COVID-19, when you walked by his office, you would see a student or postdoc sitting next to him behind the computer, as they were working together on a program or a paper. Even now, during the pandemic, lengthy Zoom calls with students and postdocs have been the rule of the day for Rohan. The patience and collegiality that he has exhibited over the years with all graduate students and postdocs who he worked with, regardless of whether they were his own or not, is truly remarkable and enviable.

Details

Created: 10 June 2022
Hits: 524