ASA Board chairman Barry Wesner discusses programs and key issues facing ASA.
Platts: Tell us about your background, family, and operation.
Wesner: I was born in Chalmers, Indiana, on a diversified operation composed of row crops, commercial hogs, and purebred Shorthorn cattle. I'm the youngest of three boys. After high school graduation and being highly active in FFA, I attended Purdue University, where I majored in agriculture education and was a member of the livestock judging team. Post graduation from Purdue I went to work in the cooperative system selling feed, animal health products, and livestock equipment. Toward the end of my time in the animal product sales business, I worked through the vertical integration of the swine industry, focusing on contract production for my clients. I also had exposure to the meat business, selling products to retailers.
In 2000 I left the animal product sales business and became a multi-line insurance agent, which I still do today. I currently own and operate Wesner Livestock Enterprises (WLE), a seedstock operation consisting of Simmental, SimAngus, and Angus. I live back on the home farm in Chalmers.
Along the way I was fortunate to help raise three daughters, Courtney, Carly, and Bailey, who I still rely on to provide advice on the direction of the WLE program. There is absolutely no better place to raise children than on the farm and through programs like AJSA. I'm extremely proud of the type of adults that my girls have become, and I'm very excited that Carly Wensner-Riley, with husband Philip, has my first two grandchildren, Reagan and Dakota.
The team at WLE is proud of our accomplishments over the last 30 years raising, showing, and promoting multiple national champion animals that made contributions to this breed. We have and will continue to host the Our Vision, Your Future production sale on the first Sunday in October each year, and the private sale of bulls and females.
I have been fortunate to have been asked to judge cattle across the US on all levels. I'm currently the chairman of the Hoosier beef congress junior show, and I'm very humbled that I was inducted into the Indiana Livestock Breeders Hall of Fame.
Platts: What are you considering as you take on the role of chairman? What are your priorities?
Wesner: I'm really excited about it. I feel fortunate to follow Randy Moody. I've been on this board long enough to know that the times we are in right now are exciting. We can offer our membership opportunities like never before. Our finances are good, and our product is in high demand. One of my big focuses is improving the communications across our various relationships. We want to continue reviewing and refining policies to make sure they are current for today's breeders. I think one of the great things about ASA is its history. We need to make sure we're sitting in a spot that responds to what our membership has to deal with right now. We have a staff that is doing a really good job.
Platts: How is the Simmental breed currently positioned within the industry?
Wesner: If you look at the bull sales and female sales that have happened this year, the participation in the show ring, and more, and you can see that Simmental has arrived. When I first got in the business you had to work hard to convince someone to buy a Simmental and bust the myth that they're all ten-frame, hard-calving cattle. Today, it's a very small part of what we have to worry about. To make it clear, our breed has moved off of the "do not buy" list to the top of the "do buy" list.
Platts: What is the importance of International Genetic Solutions (IGS)?
Wesner: Because it's out of the box, or nontraditional breed association thinking, there was opposition and pushback to it in the beginning. We've gone from that to a database with two million data points, which is very powerful. It is now a huge collaboration with recognition across the industry. I think the key here is to again bring people up to speed. We need to talk about the maintenance of IGS, and more importantly, what we have to do to ensure its sustainability. We're perfectly positioned to lead collaboration, but we have to have a plan in place on how we do that.
Platts: Discuss the importance of the American Junior Simmental Association (AJSA).
Wesner: My daughters came up through the AJSA, which was a very important part of their upbringing. Thinking about what our Classics and Regionals used to look like, people always appreciated that they were a family affair, and we had more laid-back shows compared to other breeds. Those days are over. We're one of the big dogs now and we're close to having as many or more entries than any other breed. I'm an agriculture teacher by education so there is no question that I believe in the power and value of using livestock projects to teach youth. I think our program does an excellent job of that because of the addition of educational contests, over and above just showing livestock. I do think that ASA owes it to our membership who are raising and selling show heifers to have a large platform to sell those cattle to drive a profit, so they continue to do business with ASA.
Platts: How does Total Herd Enrollment (THE) continue to impact ASA?
Wesner: With the fee structure that ASA has, if you're a person who registers and transfers a high percentage of your animals, the financial benefits of being in THE are huge. Additionally, if we look back at a traditional model years ago where breeders were only registering their best ones, how did we ever get a comparison, or validate or solidify the differentiation between the best and the worst of our cattle? There is no question that THE is powerful. I don't think a lot of people realize that even though it's been around a long while, there are continual changes being made to increase the power and predictability.
Platts: Discuss the Progress Through Performance (PTP) program.
Wesner: There is absolutely no question that following Focus 2000, PTP was huge for getting cattle back in a place that made more sense for the commercial industry. There is just no question. Frame size, performance, EPD, hide color — you can just go down the list of things PTP has impacted. Today, it's still there and available in the show program. Some may put more emphasis on it than others, but it's the guardrails to keep us from going off the road again. If you take it a step further, the addition of the Ring of Champions has expanded the program. I've been fortunate to have a couple of champions through this, and I think it's something you use to promote your program. Not everyone will put faith in it, but it's the fact that you aren't just winning one show but have a consistent animal evaluated by several different people. I think that's pretty powerful. I think we have to continue to look at these things because using the show ring as a promotional tool to sell seedstock has diminished over the years and we can say that it's diminished for several reasons, but I would contend that in 2022, with the cost of putting a string of cattle on the road and doing all of the things you have to do, we have to continue to make sure there's a reason our people want to get out and participate in it and continue to be a great billboard for our breed.
Platts: As DNA technology continues to progress, what role do you see it playing for ASA members?
Wesner: Without question, the shortening of the genetic interval in raising seedstock has been sped up through DNA. When you can pull a DNA sample and get data that's as powerful as twenty-some offspring in some cases, it's huge. I think it's going to continue to evolve as more markers are identified, and we find markers working together or against each other. I think it will continue to become more powerful. As good as DNA technology is, I am always going to contend that you can't just make cattle on a computer, or just based on DNA data. You still have to have enough form and function to fit the environment and application for where those cattle are going to go. When you put both together you have something. It's the phenomenon of one plus one equals three. If you have one or the other there is still value, but putting them together becomes amplified.
Platts: What sets ASA apart in the industry?
Wesner: ASA is a different group. We take a very nontraditional approach. We believe in a pull-through concept instead of push-through. We don't beat our chest and say "breed 'em all Simmental." We're a membership-driven organization, and knowing that there may be a difference of opinion, I believe we could do a few more things to promote Simmental directly, rather than just use the pull-through concept in all cases.
Our history is also unique. If you look at the thought process of our founders, we're a science-based breed association that has taken a more nontraditional approach to the seedstock business than most other breed associations. As it started to evolve and Simmental became a larger player, I think without the founding folks having that discipline, it would have been easy for Simmental to get off the path and conform with what everyone else thought was right. The fact that we can always go back and look at our history is powerful.
Platts: Why is member participation important?
Wesner: It's our nature. We're a grassroots organization working for our membership, and if they are unwilling to communicate, it won't work. We need members carrying buckets of water to put out fires instead of buckets of gasoline to pour onto fires. The only way you do that is to involve yourself and give your opinion. My door is always open and my phone is always on. I can't promise to do everything for everyone, but I definitely can't do anything if I don't know what members are thinking.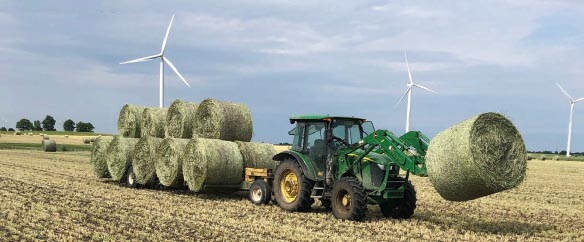 Details

Created: 03 August 2022
Hits: 768