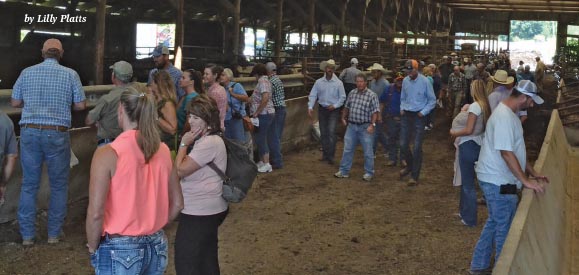 Fall Focus 2022, held in Roanoke, Virginia, August 26–30, was a successful gathering of Simmental enthusiasts from across the country. The event featured area tours, a daylong educational symposium, and a productive board meeting. The Virginia Simmental Association (VSA) co-hosted the event and gave everyone an informative glimpse into the state's beef industry, and the role Simmental plays. A huge thank you to everyone at the VSA for their help in organizing and hosting.
One highlight of the weekend was an early morning meeting of ASA's SimSpecialists team. Many members of the team were present and spent time getting up to date on association programs, sharing experiences, and discussing ways their team can be better utilized. The combined years of experience of the SimSpeciaists is unmatched; from attending bull sales and helping potential customers understand indexes to present at educational field days, they offer a lot to the Simmental breed and are dedicated to expanding their reach.
After a quick lunch in downtown Roanoke, we hopped on buses and drove to Hillwinds Farm, owned and operated by Tim and Cathy Sutphin. The Sutphins have been using Simmental genetics in their commercial operation for some time, and have built a profitable family business. Tim discussed the genetic and management decisions that have allowed them to build their herd, and how Simmental genetics has been a major part of their success.
From there we jumped back on the buses and drove to Blacksburg for a tour of the Virginia Tech campus. The university's Beef Cattle Center runs a herd of cows, including Simmental, and holds a student-run bull sale — the Hokie Harvest Sale — each year.
After that, we drove just outside Blacksburg to Bill McDonald's historic farm, which was established in 1763. During the Revolutionary War the farm served as a depot, and early in its history it also housed a grist mill, a tannery, and was used for producing "McDonald Surefire" gunpowder. Today, McDonald Farm raises Simmental seedstock, utilizing the abundant grass available in the Virginia hills. Bill and his family graciously opened their home, served ham and biscuits and mint sweet tea, and showed us all a great deal of hospitality.
We then headed back to the buses and drove out to Virginia Tech's Kentland Farm. Their newly constructed hay barn served as a beautiful setting for dinner, live music, and socializing. The Virginia Junior Simmental Association served a brisket dinner, and we heard from VSA president Mark Campbell, and Dr. Dan Eversole and Chad Joines with the VT's beef cattle program. Pouring rain threw a hitch in the schedule, but we were eventually able to head outside to watch Lane Giess's live feet and leg scoring demonstration.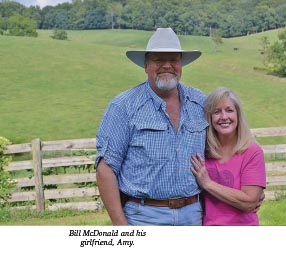 Saturday kicked off the educational day, which was thoughtfully curated by ASA's Dr. Jackie Atkins. Barry Wesner, board chairman, welcomed everyone to the event. Virginia Secretary of Agriculture, Matt Lohr, kicked off the speaker lineup discussing the importance of agriculture in the state, and the larger role he sees it play in communities across the state.
New ideas and being at the forefront of developing science goes hand-in-hand with ASA's mission, and the next speaker, Dr. Alison Van Eenennaam, discussed
something that could change the beef industry and raising livestock as a whole. Van Eenennaam works as a Cooperative Extension specialist in the field of animal
genomics and biotechnology in the Department of Animal Science at University of California–Davis, and her current research focuses on genome editing, which she
discussed in detail during her talk. The technology to insert or remove individual genes, which could change any desired trait, exists but is not legal to practice in the US. Van Eenennaam explained the science, its effectiveness, how it can be used, and the regulatory framework that currently prevents scientists from fully utilizing it. The use of genome editing also poses a moral question for many, which attendees were challenged to consider.
Dr. Troy Rowan, University of Tennessee, followed with his talk, "Laying the Groundwork for the Next Generation of Phenotyping, Genotyping, and Genomic Prediction." Rowan discussed genetic progress, and how to speed up genetic improvement. The accuracy of genetic predictions and the ability to measure useful phenotypes are the two basic pieces of the equation, and improving each is necessary to speed up genetic improvement. Rowan discussed the role of genomics, showing how the implementation of genomic testing improves our ability to predict an animal's genetic merit. He explained how Single Nucleotide Polymorphism (SNP) technology is currently used, and how Sequence Imputed technology could improve genomic testing. Rowan then presented possible steps that could be taken to implement sequencing strategies, which are currently being used through research. He also discussed traits that would be extremely useful to the industry if measured, including disease risk and greenhouse gas emissions. Traits like these are difficult to measure due to variations in animals, genetics, environment, and more. However, work is being done at the university level to measure these phenotypes, and that work should eventually help breed associations—and ultimately, producers—make selection decisions.
The Virginia Simmental Association played a huge role in organizing Fall Focus, and the lunch on Saturday featured president Mark Campbell, and Virginia Cattle Industry Board member, Paige Pratt.
After lunch, Dr. Vitor Mercadante, a professor at Virginia Tech, discussed advancements in fixed-time AI technology. He began by discussing beef production efficiency in the US, using Brazil as a comparison. It takes fewer cattle to produce more beef in the US, thanks in part to reproductive efficiency. The goal is to optimize pregnancy rates and develop and select replacement heifers that are highly fertile at the lowest possible cost. This sounds simple, but because fertility is generally lowly heritable, producers can't simply select females based on what their genetic merit should be for this trait. Mercadante broke down reproductive efficiency to include a combination of management, nutrition and animal health, selection pressure, and the use of reproductive technologies. Estrus synchronization is commonly used, and fixed-time AI can reduce the labor necessary to AI females since checking for heat isn't necessary. It also increases the portion of females exposed to AI, and more females are bred by AI in a shorter period of time. Mercadante then explained the financial impact of fixed-time AI on calving window, the number of cows that are bred, weaning rate, and weaning weights. Using the AI Cowculator, through beefrepro.org, he showed how fixed-time AI can increase profitability. He then discussed the management factors that affect the success of fixed-time AI pregnancy rates, and presented protocols producers may choose to use. The Beef Reproduction Task Force publishes detailed AI protocols for mature cows and heifers, which Mercadante broke down. Sexed semen protocols have also been added.
ASA's Dr. Randie Culbertson and Dr. Wade Shafer discussed genetic selection for Feed Intake (FI), and Residual Feed Intake (RFI). Feed represents 50 to 70% Drs. Wade Shafer and Randie Culbertson presenting information on RFI and FI, and how accurate measurements can influence profitability. of total production costs, which increases dramatically when the cost of corn goes up. Balancing this cost with profitability can be tricky, as a decrease in feed inputs can decrease animal performance. Decreasing feed costs without sacrificing animal performance would lead to a dramatic improvement in animal performance and profit. There are a number of questions, including how to define feed efficiency, selecting which phenotypes should be used for selection, how these factors can be incorporated into a breeding program and genetic evaluation, figuring out how this selection would impact other performance traits, and whether FI or RFI measurements should be used. Culbertson then discussed the pros and cons of both RFI and FI, which differ in their measurement. In conclusion, breeding objectives shouldn't only be the reduction of feed but to also increase the profitability of cattle.
Saturday evening was a time for celebration, and to recognize Golden Book Award recipients and retiring ASA trustees. Due to Covid, last year's Golden Book recipients were not honored in person. To make up for this, they were recognized at Fall Focus 2022. Sunday morning started off with a bull session, which gave Fall Focus attendees the opportunity to ask questions of board members. These exchanges sparked discussions that continued into committee meetings.
Fall Focus 2023 will be hosted by the Colorado Simmental Association in Denver. Stay tuned for details
Presentation Recordings
Details

Created: 13 October 2022
Hits: 283