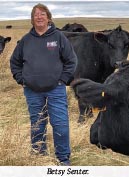 Betsy Senter was born and raised in Raleigh, North Carolina. "Both of my grandparents had farms. My dad's dad had a 220-acre farm just south of Raleigh, and basically, we grew up there. We were out there all the time, every weekend, and whenever something needed to be done. We ran cattle, and had a group of people we sold freezer beef to. That's how I became interested in beef. We sold quarters and halves, and my grandpa had a list of customers in town," she says.
Senter had an interest in science, attending college at North Carolina State University where she majored in animal science and wildlife biology. "When I was there, I became heavily involved with the animal science club, and I was on the judging team. That gave me further insight and I became more involved with cattle," Senter explains that she always knew that animals and agriculture would play a role in her life, "I just liked working with animals. We had beef cattle around all the time, and my grandfather even used AI when it was first starting."
Senter grew up with the determination to do what she set her mind to, and after graduation and a few jobs, she accepted a position with the Farmers Home Administration in South Dakota in 1977. She attributes her drive to work to several influences, including her mom. "My mom was a legal secretary, and she was always one to say, 'you can do anything you want to.' Looking back, that was a big influence on me."
The move from North Carolina to South Dakota was big, but Senter settled into her professional role as well as the midwestern agricultural community. Her knowledge of agriculture and education allowed her to build relationships with her clients. "Later I became a loan manager at my own office here in nearby Winter, I was there for around 27 years, and kept a staff of around five people. We made guaranteed loans, direct loans, and serviced loans."

Senter retired in 2009, which allowed her to dedicate all of her time to the cow herd she had been building. She originally lived in town, but soon made it a point to find more space. She rented a farmstead, and was able to eventually buy her first piece of land. "I moved out here and slowly increased my cow herd. While I was working I was mainly doing it on the side." Upon retirement, she was able to focus on building a business along with her partner in the cow herd, Bonnie Noziska.

Simmental became an important part of this plan. "I went and bought my first three-quarter-blood Simmental bull in 1997 and haven't used anything else since. The docility and crossbreeding is what we were after. Then, the more we got into it, I just started paying more attention to the breed. I came to the realization that with land and machinery, we weren't going to be able to do quantity, so we decided to emphasize quality. We started slowly registering the cows and using AI."
Today, B&B Simmental markets 15 to 25 registered Simmental bulls to local customers. Science and a dedication to learning have remained important to Senter throughout her life, and Simmental has allowed her to dive even deeper into these things. B&B Simmental participated in Total Herd Enrollment, the Cow Herd DNA Roundup, and completes a genomic test on all of the bull calves and replacement heifers each year. Senter has attended many Fall Focus events and continues to learn about genetics and science. "The science and numbers, and trying to produce something that people can use for crossbreeding and help their genetics and improve the final product is what interests me."
Community and fostering youth involvement in agriculture are also extremely important to Senter. Through the local cattlewomen's group — the Rosebud Rancherettes — she helped get local beef into the school lunchroom, and, most recently, agricultural classes into the curriculum — including FFA. "We went to the school board meeting, and I said, 'We have some of the best cattle and agriculture in the country and we don't have ag in our high school.'"
Fostering an interest in agriculture is a priority for Senter. "I have a group of kids who go to school in Burke who work for me. There are five or six high-school boys, plus Morgan, who come out and work — we laugh because yes, it's crazy sometimes, but we enjoy young people, and I think we are giving back. It's one thing to work for your parents, and another to work for someone else."
Throughout her career, she saw it become increasingly difficult for young people to get a start in agriculture. She helped many get loans, and understands that due to the cost of land and startup, it can be almost impossible for someone to become involved without the help of family. "I think with these ranches and farms that are handed down, we need to figure out how to preserve them and help them be successful, any way we can, and attract young people into it."
As someone who found her way into the cattle business, Senter believes that it takes creativity and thinking outside the box to get started. "Make sure you can eat and live — something that will pay the bills — and work your way into it. I don't think you can drop right in without assets that are already built up. Move back to these communities, become a part of them, and try to get into it slowly instead of borrowing a bunch of money. It doesn't have to be done overnight. Have a good support system with family or a neighbor who will help you."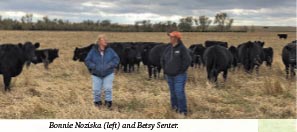 Details

Category: Women of ASA
Created: 01 May 2021
Hits: 1015