by Emme Demmendaal |
Editor's Note: This article series highlights significant contributions of women in the Simmental community.
Former president for the American National CattleWomen, Penny Zimmerman, of One Penny Ranch, Foley, Minnesota, has been a lifelong Simmental breeder, beef advocate, and educator.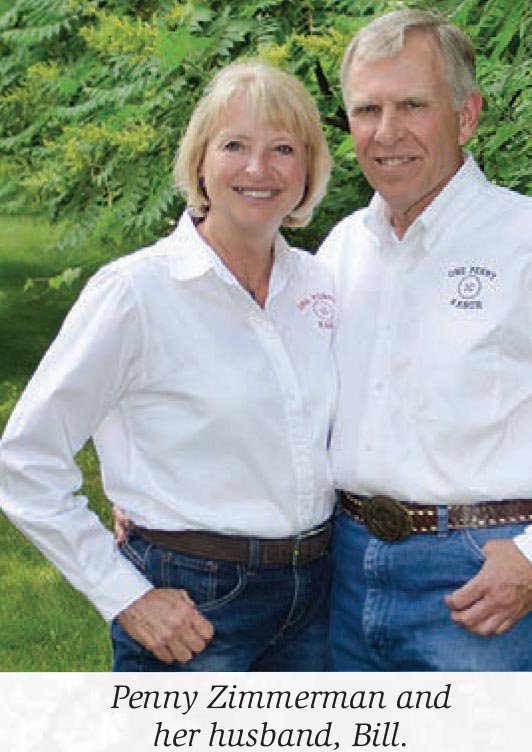 Breaking into the cattle industry as a first-generation rancher can be difficult, but to also run a successful seedstock operation, while simultaneously making a positive impact for future generations through animal agriculture advocacy, sets the bar even higher. Penny Zimmerman, of One Penny Ranch located in Foley, Minnesota, is that cattlewoman.
Growing up in the Minneapolis, Minnesota, suburbs, Zimmerman's first experience with cattle was after she married. "When I married Bill, I thought I was marrying a city guy because he was raised in the suburbs of Indianapolis. But after we got married, I noticed these cattle magazines around the house. Soon after, we bought a couple of steers and needed to build a fence — just a little fence around about two or three acres of irrigated pasture."
She laughs, "But we lived in a little apartment, and we didn't have a place to store the leftover posts and leftover wire. So it was behind the couch in the living room. That's when I knew I was in trouble."
When the couple moved to Southern Idaho, five miles north of Preston, Bill managed a Simmental ranch for Valdo Benson. It was here, experiencing life as a rancher, that Penny fell in love with the cattle industry. She recalls grazing the cattle in the mountains and bringing them back to the valley for winter calving, watching the calves grow
to become mamas, and, like all ranchers, feeling the heartwrenching sadness when a few got ill and were lost.
"My husband introduced me to the cattle industry. I love being outside, being able to help with the chores, feed the animals, and watching the little calves play tag in the evenings when the sun is setting. It gives me a heartache when we treat sick calves and sometimes can't save them.
We are here to be good stewards of the land and good stewards of animals. It just all fits together." She summarizes, "This is my life, and it's exciting, from city girl to learning how to ranch and run cattle."
She summarizes, "This is my life, and it's exciting, from city girl to learning how to ranch and run cattle."
After living in Idaho, Utah, and Nevada, they settled back in Minnesota in the early 1980s and started their own Simmental operation. Today, One Penny Ranch is a diversified 150-head cow-calf and seedstock operation focusing on Simmental, SimAngus™, and Charolais genetics.
Zimmerman attended St. Cloud State University for teaching and taught third, fourth, and fifth grades for almost
30 years. Zimmerman shares that she integrated agriculture and the cattle industry into the classroom every opportunity she got. "I taught at a school district that was part of a town outside the suburbs, and you would think that kids know more about farming, even if they live in town, because they drive past these corn, alfalfa, and soybean fields, but they really didn't know very much. It was interesting to be able to teach them a little bit about agriculture."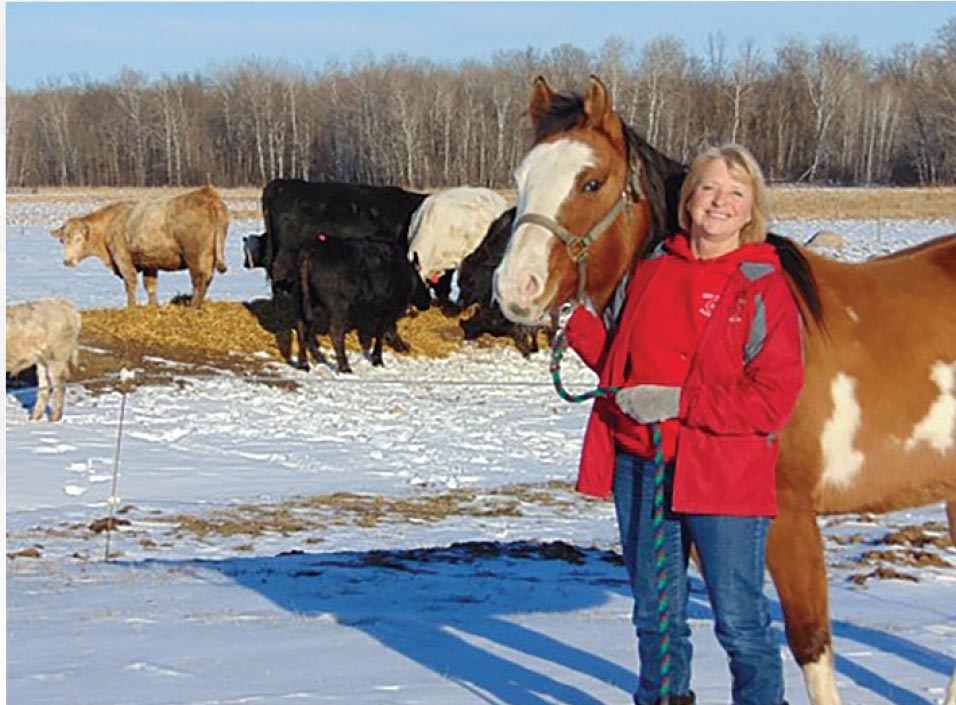 Around 2000, Zimmerman started getting involved in the cattle industry organizations. She was introduced to the Minnesota CattleWomen (MCW), for which she was president from 2010–2012, and later the American National CattleWomen, where she went on to serve as ANCW president in 2017. "I traveled to 23 different states as president of ANCW, meeting with the cattlewomen at their state annual conventions. It was a really great experience to meet women in the industry and educate others about the industry."
Recently, Zimmerman was selected to join the Cattlemen's Beef Promotion and Research Board (CBB), a 99-member board from across the country that determines how the check-off dollar is spent. As co-chair for the CBB's International Marketing Committee, Zimmerman, along with the committee members, has been focusing on driving US beef demand in other countries. She says, "Our goal is to understand what's happening in different cultures around the world and improve interest in importing United States beef. We've increased the value of the carcass across the board by focusing on selling parts like tongue, liver, or tripe."
At the end of the day, Zimmerman is passionate about helping people in and out of animal agriculture make informed decisions. She believes that education in the cattle industry and with the general public will make a larger impact in keeping the tradition of ranching and farming alive. She concludes, "I believe being involved helps to keep the cattle industry strong for the next generation. There are so many people in the US and the world who don't understand our industry and would just as soon shut it down. If we educate people about the industry, consumers will understand how we do things and why we do them."
Details

Category: Women of ASA
Created: 16 May 2021
Hits: 859