Born and raised on a commercial cow-calf operation in Joliet, Montana, ShayLe (Hildebrand) Stewart grew up like many ranch kids, with a deep passion for agriculture and the beautiful life it brings, but she didn't know exactly how to tie her passion for the industry into the next stage of life. It wasn't until she was attending Northwest College, in Powell, Wyoming, that she discovered the variety of career opportunities in the agricultural community.
One particular internship with the United States Cattlemen's Association pivoted her career by showing her the need for more cattlemen to have an in-depth understanding of the cattle market. During this USCA internship, Stewart was saturated with the ins and outs of the cattle market, and she says, "We dove into the challenges, where the market falls short, and, honestly, the taboo and unknown nature of the cattle market in general. It dawned on me that we have an entire sector of the cattle market where people don't feel comfortable even talking about how they market and sell their cattle because they're not sure what to say and are afraid of looking dumb, but yet this is how their operations get paid year in and year out."
Bridging the gap between the unknown and the producer, Stewart created a platform called Cattle Market News, where cattlemen have the hard conversations about the market and ease some of the fearful nature of those conversations. Since its start, the platform has grown to 18,000-plus people following on Facebook. The end goal is to be a one-stop shop for people to understand what is going on in their marketplace, and somewhere where they can easily click and listen, and not have to feel self-conscious about asking any question that comes to mind.
Stewart explains why she felt pulled into starting Cattle Market News. "For the most part, we as cattlemen are paid on a market that we don't understand. We don't understand why we sell when we sell, we don't understand why we sell what we sell, and we don't understand necessarily how the transaction even transpires. We just know that we sell calves around this date and they wean off typically around this weight, and this is the way we've always marketed them so we're going to continue to do so. I wanted to help bridge the gap of not knowing the cattle market, so we can grow and gain an understanding of the market environment. It's not something that's easily understood. At the end of the day, I want to hit the nail on the head by answering some of the tough questions people have."
Her love for the cattle market led her to DTN where she is now a Livestock Market Analyst. She shares, "Day in and day out, I watch the livestock market. I watch the price of the feeder and live cattle contracts, and I report on all cash cattle trades. This started as an opportunity at a relatively young age that has just grown bigger and bigger and bigger, and I am forever thankful because it is truly my dream job.
In addition to Cattle Market News and DTN, Stewart, along with her husband, Jimmy, runs a registered SimAngus™ cattle operation called Big Country Genetics outside of Cody, Wyoming. On the high desert, Stewart's seedstock cattle are managed just like their commercial customers down the road
"When people come to us to buy cattle, they do so knowing that these cattle will not melt and will maintain flesh in any environment. Due to the way that we run them, our cattle work in a multitude of situations, they excel in fleshing ability and fertility. Our customers also know that feet and leg structure are a must in the country that we run in. We follow up our quest for well-structured livestock with a three-year guarantee on feet and legs on every bull that sells in our Big Country Genetics Bull Sale."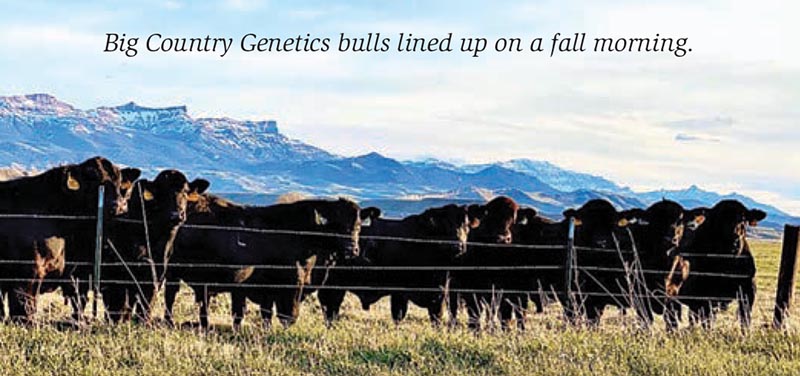 In addition to using EPD, indexes, and DNA testing, Big Country Genetics firmly believes that crossbreeding is a fundamental practice in sustainability and profitability for themselves, their customers, and the beef industry as a whole. She says, "We are a young operation, and we need our cows to work for us. First and foremost, our cows are required to have an extremely high maternal instinct, calve outside and unassisted, raise quality calves and be extremely fertile all while grazing ten-plus months out of the year. We require our cows to work because we believe that where there is no selection pressure, there is no clear way to see one's quality when compared to another. We feel that the only way to properly serve our commercial customers is to run our cows as similar to them as possible."
Stewart points out that a rancher wears many hats to be successful, from being an economist, market analyst, and geneticist, to an agronomist and a shepherd. She says cross-breeding is the fundamental part of the business because they depend on their cow herd to hold their own through market lulls. "That's where crossbreeding comes into play, because we take the advantages of both the Angus and Simmental genetics, and we put it into a package that is able to produce and to sustain far greater than what the typical straight-bred cow is able to do."
At the end of the day, Stewart sees that profitability on cattle trade affects not only the feedlot but also the cow-calf producers and seedstock breeders. She summarizes, "I love being able to report on the market and help get its voice stronger out to the countryside. That way, cattlemen understand how essentially all these markets are tied together, and they have to work together. And so profitability isn't being sought in one essence of the market; it does eventually trickle into affecting the other sides as well."
To follow ShayLe's market reports, follow her Facebook page "Cattle Market News."
Details

Category: Women of ASA
Created: 27 August 2021
Hits: 1691